Assessment in CLIL
Assessment in CLIL
Examples of assessment instruments uploaded as a result of discussion in Younglearners @ yahoogroups, April 20th - 24th, 2009
On the Basque website you will find a number of interesting instruments for gathering information about achievement, both for peer assessment and teacher assessment.  Note that the objectives state both language and content targets.You'll find four files for download from the Basque project at the foot of this page:
- Objectives
- Peer assessment
- Teacher assessment 1
- Teacher assessment 2
I've worked with a lot of colleagues in this area, and am linking two instruments at the foot of the page that they have shared with me, just for your information.  They serve only as examples of attempts at creating CLIL assessment instruments:
- CLIL 1 - CEF model
- CLIL 2 - integrated descriptor model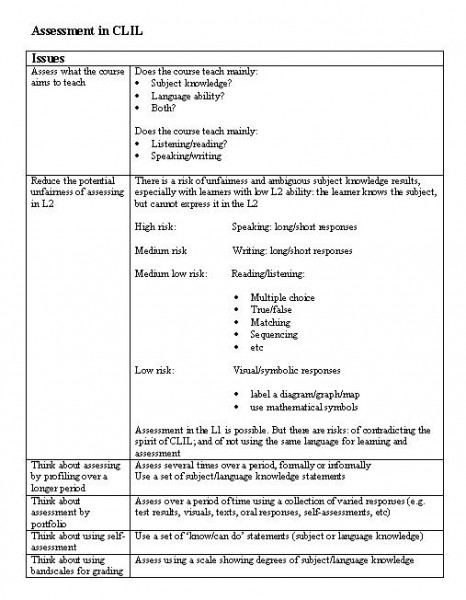 Overview of assessment risks (J Clegg) (linked in Word doc below)
Take a look at Geri Smyth
Helping Bilingual Pupils to Access the Curriculum, Fulton, 2003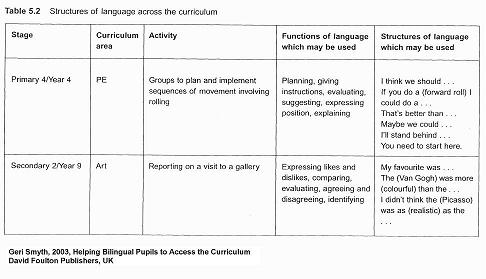 Language is mapped onto the curriculum ...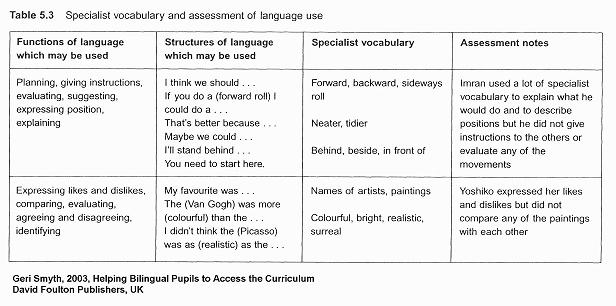 ... this feeds into assessment ...
Send us your test instruments, sample tests, I'll upload them here.