Putting CLIL into Practice - Thoughts
Putting CLIL into Practice - Thoughts...
The aim of this page is simply to draw together articles and ideas which focus on Putting CLIL into Practice.
I'll arrange it so that there is a running list of titles below which will link directly to either a file to download as an article, or a link to another page with something to see and read there, or a link to an external link for something a colleague has produced.
The articles and ideas you read here are at the heart of the teacher development courses I lead at Anglia School Summer Courses programme
(
https://www.factworld.info/en/Bulgaria-Course-Putting-CLIL-into-Practice
) so if you are interested in what you read and would like to find out more, come and join us! The courses are listed in the School Education Gateway as Putting Primary CLIL into Practice and Putting Secondary CLIL into Practice: 
https://www.schooleducationgateway.eu/en/pub/teacher_academy/catalogue.cfm
Happy reading!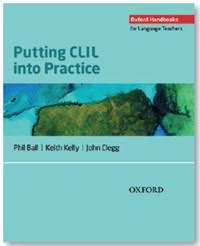 Keith
191205 Thinking Skills for Successful CLIL - 2) Data Handling
In a recent article I wrote about Thinking Skills for Successful CLIL – 1) Brainstorming Ideas and 'Seeing' Language. It occurred to me writing this piece that what is needed is a skills audit. With this reference of the range of skills existant in the school curriculum, we can then go on to produce examples and approaches to the individual skills. These examples can them form a 'bridge' between the language curriculum and the content curriculum for sucessful CLIL implementation. I ran a half day of CLIL workshops for students, and faculty at Tallinn University and two questions from the group stuck with me. Firstly, I stress how useful it is for language teachers to explore curriculum skills (e.g., data gathering, graphing data, interpreting data) in order to implement CLIL in their classrooms. A question which arose from this focus was: Does this mean that we will do less BICS? Secondly, a colleague asked: What do we do if we don't feel comfortable with the concepts? 
This paper takes one curriculum skill - data handling and shows how it can be used in the Language 'soft' CLIL classroom so that the academic language is practiced and so ready-to-go in the Content 'hard' CLIL Classroom.
191205_Thinking skills for successful CLIL - 2 Data Handling
190524 Thinking Skills for Successful CLIL - 1) Brainstorming
Imagine a theme in your curriculum subject that has a number of related factors. You may get your students brainstorming the theme in order to come up with these factors, and / or any others that they can think of. This article takes an example task from a Geography context and walks through how CLIL teachers can easily embed academic language in a brainstorming task where students map out the factors they identify and within this 'map' language support can be provided to the students. In this way, CLIL teachers can successfully support development of academic thinking AND academic language in-task.
190524 Thinking Skills for Successful CLIL - 1 Brainstorming
190410 Classifying Animals
This
powerpoint
was the focus for a presentation - discussion I gave at Plovdiv University Faculty of Education to a group of year 2 students of education (with English as an option). I spoke about the link between 'thinking' and 'language' and the importance of having a strong focus on academic language in the content curriculum, while at the same time having a strong focus on 'thinking skills' in the language curriculum. Hey Presto! CLIL offers just this for both camps, Soft CLIL and Hard CLIL. Here, a lesson from
Anglia School
was presented for classifyig animals making use of the excellent
tigtagworld CLIL
resources for Grades 1 and 2 children.
I've written up
my observations on the lesson in an article
, some thoughts on 'structuring ideas' for classification, and thoughts on general academic language for classification, also with a summary of the talk you'll find in the slides linked above.
190413_Classification - Thinking Skills and Language in CLIL
190131 Drama as CLIL Instrument
An exploration of approaches to role
play and drama with a focus on 'performance' and 'audience'. The key idea in this discussion is that teachers know the 'script' of their subject and they can set up situations where their learners take on a role in order to practice this script, this standard language of the subject. There is a hint at 'semi-scripts' from Marion Geddes (1978), after all, the oldies are the best! There is a short clip of some wonderful Austrian teenagers in the role as chemists analysing soil samples in the lab - fabulous!
(
link to YouTube video
)
PS - there is mention of 'Socratic Questions' used by doctors during patient interview. A task is attached on this theme at the foot of this page and
linked here
.
190131_Drama-as-CLIL-Instrument
190121 The Treaty of Versailles – Explaining Opposition among the German Population
An exploration of the language demands of a secondary history test item asking learners to explain the German opposition to the terms of the Treaty of Versailles. The test item is in written form, but the discussion goes through presentation input, reading input, speaking output practice and finally arrives at supported writing output.
190121_The-Treaty-of-Versailles–Explaining-Opposition-among-the-German-Population
PS - there is also a PPT related to this piece archived at the foot of this page and entitled 'Analyzing_History_Language'.
190114 Language in content subjects from curriculum to test
A discussion on the role of general academic language, its relative invisibility but importance for passing exams and reaching the expected 'standards' of fluency and eloquence in the subject. An example of a curriculum area is taken (hearts - biology) and the cognitive-academic language is explored in this subject topic with reference to curriculum objectives, textbook pages, test items and language support tasks.
190114_Language-in-content-subjects-from-curriculum-to-test