Czech Republic - CLIL Scoping Visit
National CLIL Project, Czech Republic

Initial consultancy visit

March 16-17th, 2010

Report, pictures and links

I'd heard bits and pieces about CLIL in the Czech Republic, but have never been there with a work focus so was pleased to be invited to visit for two days of consultancy.
It's a busy place, with what looks like a national push to coordinate CLIL development in the education system.


I stayed at the Hotel Yasmin and I don't usually make a point of mentioning anything about the hotel, but this was very comfortable, perfectly silent at night. New noises are the one thing which does spoil my sleep while away!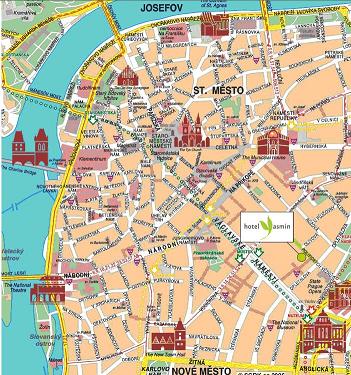 Day 1, March 16th, 2010

Staša Závitkovská, Head of Partnerships and Projects, from the British Council in Prague was instrumental in my coming over for the two days. I'd like to thank the British Council in the Czech Republic for identifying this opportunity. It's a very exciting and potentially significant project to be involved in.
On the first morning I met with Paul Hilder, deputy director of the British Council and Mgr. Tereza Šmídová, Foreign Language Methodologist at the Research Institute of Education in Prague. We discussed expected outcomes and possible follow up to the visit.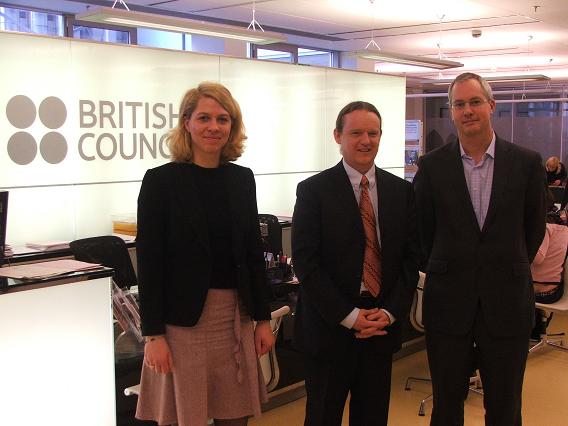 Tereza and Paul at British Council, Prague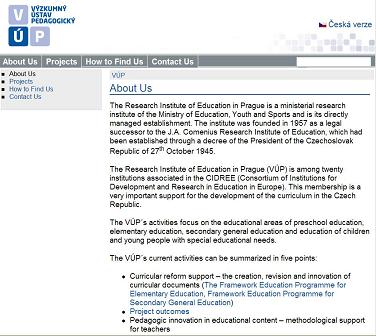 Research Institute of Education in Prague (www.vuppraha.cz)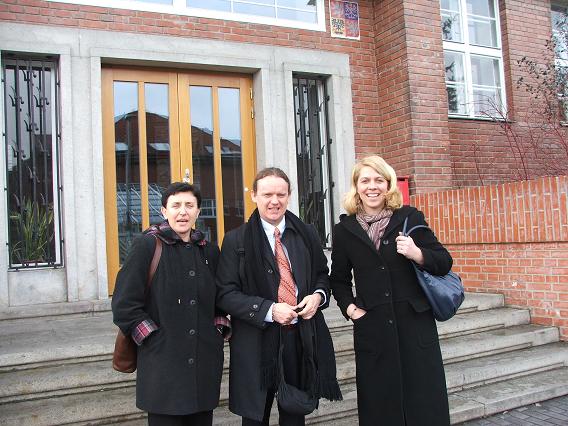 Tereza had planned a school visit so that we could observe a CLIL lesson in practice at the Hans Paulka Primary School (www.zshanspaulka.cz) in Prague's 6th district.
We were joined by the district deputy mayor and head of education department, Jan Holicky.

There is a PowerPoint presentation about the school available for download on the school's site in English, German and Italian.

Marie Pojerova, Head Teacher at Hans Paulka, welcomed us and we heard all about the school's efforts to offer extensive language exposure to its children, not just in English, in response to parental pressure! This is carried out through a project called English Across all Subjects which offers ongoing full-year content-based classes from year 1, language clubs and also a kindergarten initiative. We also learned that the local municipality has invested a substantial amount in 15 schools in the district as part of its concerted policy on language education.

We sat in on a year 1 class with integrated art and music and then we got the chance to talk with the two American teachers working at the school about their experiences. Thanks for having us Stephanie. The school is supported by a foundation which among many other things involves a Czech-US couple recruiting teachers for their programme. I wish them the best of luck in their great efforts!
I had a working lunch with Tereza and as well as looking through my presentation for the afternoon, we shared links and information on CLIL. These included information about resources available through the Research Institute methodology portal www.rvp.cz.
- Link to National Framework Education Programme for Elementary Education:
http://rvp.cz/informace/wp-content/uploads/2009/09/RVP_ZV_EN_final.pdf
- Link to National Framework Education Programme for Secondary Education:
http://rvp.cz/informace/wp-content/uploads/2009/09/RVP_G-anj.pdf 
 
NB - One of the jobs I've set myself to do is to take a good look at the framework education programme and make suggestions about language for a CLIL approach.
 
There is also a lovely resource on the Water Cycle on the site which comes from a colleague in Italy.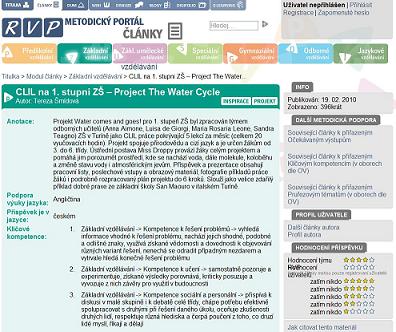 Research Institute methodology portal

In the afternoon I gave a talk and fielded discussion with 20 + colleagues from a range of teaching contexts. The talk was an overview of the CLIL approach and it was with consecutive translation. The feedback from the group was very good and there were a number of follow up interactions with teachers. I collected 21 emails from people who wanted to keep in touch which is always a good sign.
I met colleagues in the break and after the event with questions. I met Olina, who is a language teacher interested in adopting a EFL CLIL approach. I pointed her towards Science Across the World, a good place to start for ready-made content and language ideas. I met Maria (Spanish teacher who asked 'what about other languages than English?') and promised to put her in touch with the Spanish school in Sofia for exchange and collaboration. She will write.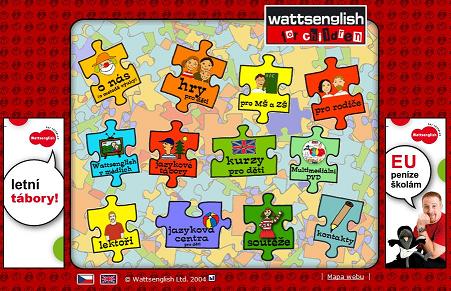 also met Steve Watts who runs a English learning centre franchise in central Europe. Steve is looking into developing services for CLIL teachers in their schools.

Day 2, March 17th, 2010
On day two we went to the NIDV (Narodni institut pro dalsi vzdelavani) which is the National Institute for Further Education, the institute responsible for ongoing teacher development in the Czech Republic. www.nidv.cz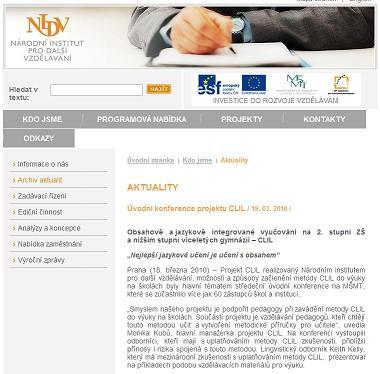 There I met Monika Kubu, who is General Manager for the CLIL Project in the Czech Republic (kubu@nidv.cz).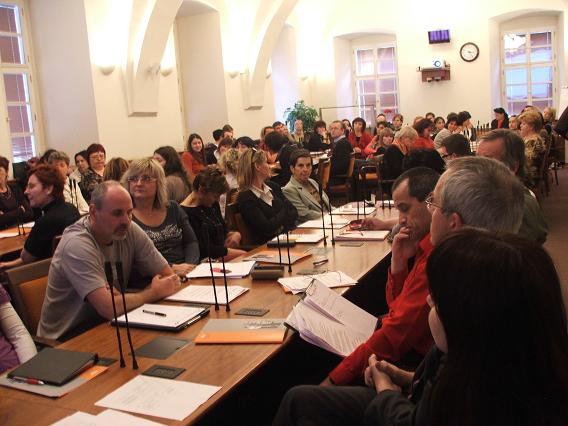 Yana Cadova kindly acted as interpreter and did a grand job (cadovajana@seznam.cz) and is also part of the team and is very interested in CLIL materials design.

Monika explained general educational reform which is the backdrop to the CLIL project being developed. In particular the move from content information to skills development in foreign language learning. A key factor in Czech Republic, I was told, is that graduates leave university with two subjects and this can frequently be a subject and a foreign language.

I also met Anna Kamenickova who reported on a previous project 'Open Gate for Languages' which would be a useful basis on which to build the CLIL project.

This was an enormous project by the sounds of it.

In short the aim was to lift the foreign language level of all teachers involved in the project by at least one CEF level. The figure given was 4466 teachers rose one level during the programme. There were many interesting bits and pieces of information, but it's enough to say that among the population of teachers trained there were a large number from subject teaching backgrounds and it is this population of teachers who will be the target group of the CLIL project in the Czech Republic. Anna kindly let me have a booklet which was one of the products of the Open Gate project presenting models of lessons for teachers to use.

I was particularly interested to learn that the whole process of and information for the project was 'mapped' and this database would provide a strong grounding for communication and information sharing in a new project like the CLIL one just beginning.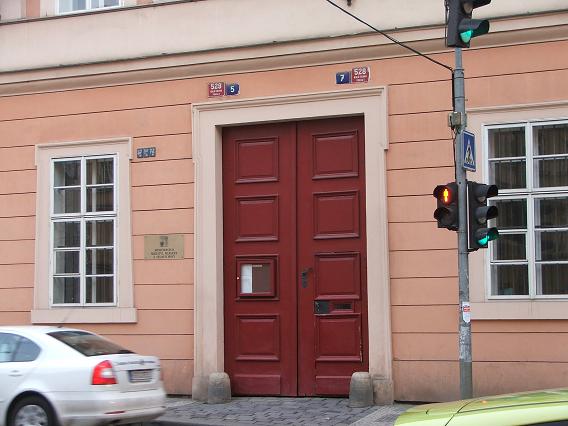 Main entrance to Ministry of Education

We also discussed how I might be able to contribute to the CLIL project.
One of the things I promised to do as a result was link Monika with the Lithuania CLIL I was involved in for three years and which produced a handbook for teachers.

The CLIL Project Outline
The first seminar of the project will take place in second half of April, 2010.
It is planned to offer 4 seminars to a total of 40 hours over the course of 18 months to May 2011.
 
- Module 1 – information on the project, CLIL Methodology, forms of working, design first activity
A three-week interval will follow where teachers try out task in schools.
- Module 2 – collect feedback, share, analyze to identify new strategy for new lessons, new techniques
- Module 3 – assessment module focus
- Module 4 – real practice, feedback, microteaching
 
The outcome will be a selection of lessons from the months of the project offering models for all schools to use as the project goes on beyond the training.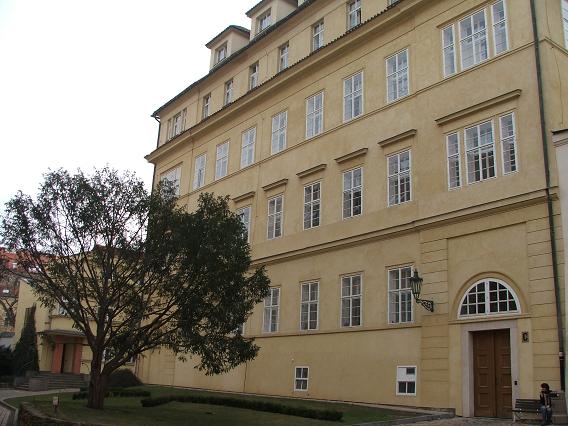 Ministry building, conference location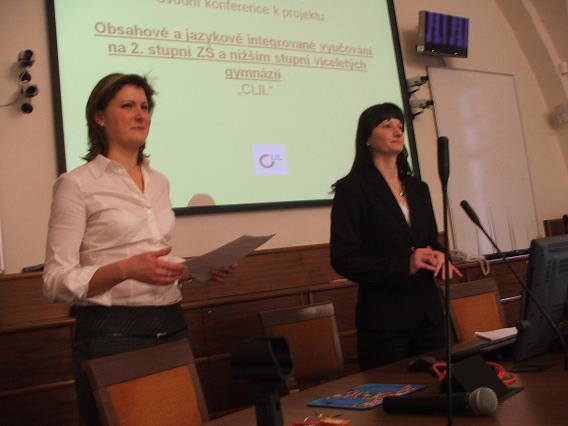 Pavla and Monika getting the conference under way

The programme of the conference:
 
13:30 opening, basic information about the project CLIL (Monika Kubů)
13:45 detailed information about education of teachers (courses focused on CLIL)  - Pavla Matoušková
14:10 the Research Institute of Education -  short talk about CLIL in our republic (Tereza Šmídová)
14:20  Keith Kelly  - presentation
15:00 discussion
15:10 pause and refreshment
15:30 the first concrete example of using CLIL from a Czech basic school (Vít Průša)
15:50 the second concrete example of using CLIL (Jarmila Novotná)
16:20 discussion, the end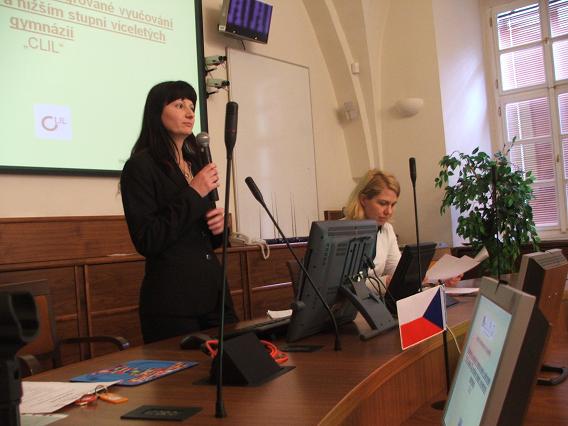 Monika Kubu and Pavla Matouskova spoke about the CLIL teacher training initiative and Tereza Smidova joined us again from the research institute to put the event into the context of national educational and curriculum policy.

I never feel completely at ease in such a formal context where you have to address colleagues about teaching, which is all about communication and connections with learners since by definition your opportunities for communicating and connecting with the audience are restricted by the setting, layout and so on. Nevertheless, there was connection with the group, and much to my surprise and delight there was open discussion to follow up. I was expecting silence, but there was debate.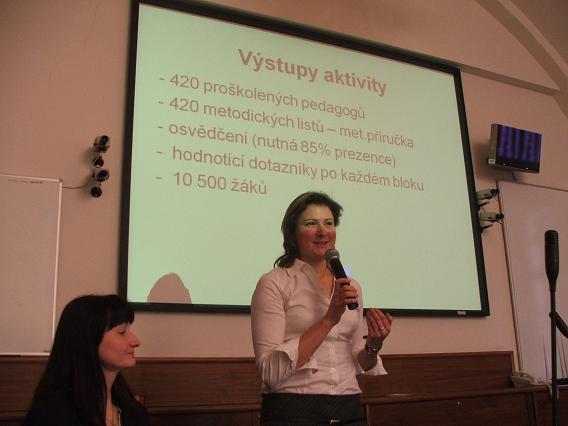 I gave my talk on issues and methods to do with CLIL. My opening line was 'Prominte, mluvim cesky velmi spatne', though I plan to buy myself a 'teach yourself Czech' book soon so that next time I can 'Mluvim cesky velmi dobre', or whatever the correct Czech word for 'well' is!
There was a lot of debate in the hall about the CLIL project with strong arguments for and against.

In the coffee break I actually got to meet some people and talk about their work.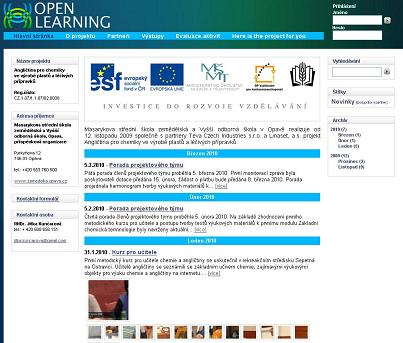 I met Jitka (and Zdenka) from Opova who is a chemistry teacher working with 16 and 17 year olds and who reports that her students enjoy the chemistry in English. www.anglictinaprochemiky.cz
Jitka is looking for more ideas to help her work with students who need chemistry in English for the professions they will go on to join when leaving school. Jitka mentioned that they will be organizing a conference in Opova in Sept 2011. Keep an eye open for that. I told Jitka that 2011 is the International Year of Chemistry and so her conference is timely.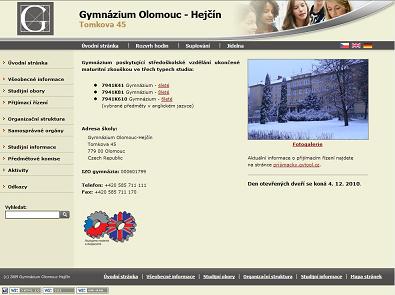 I also met Karel Pohanel at the end of the conference. Karel describes himself as the 'father' of the bilingual programme in the Olomec Grammar School having been at the school since the beginning of the programme in 1992. Karel explained that his 'project' is in the process of securing EU funding for training for schools in the region based on the model in their school. (www.gytool.cz)
I think meetings like these are very important. The big picture is very important, but I wish there were more opportunities for conversations like these which can also lead to concrete follow-up situations.

It only got better!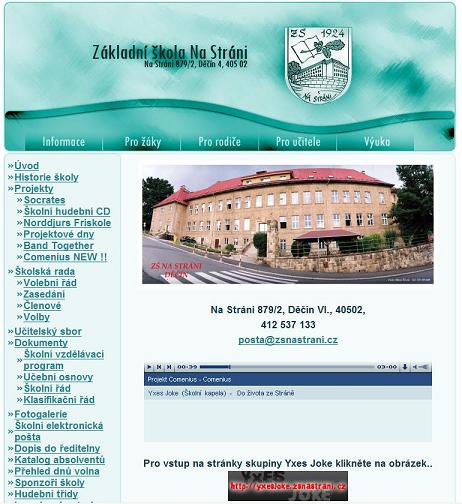 Mr Prusa, director from the Basic School in Decin (www.zsnastrani.cz), came to present about the CLIL experience they are having. The presentation was in Czech, but very visual and musical as the school focuses on Art, Drama and Music in English. Mr Prusa's enthusiasm for his students was infectious and it was clear how much the children enjoyed what they do, learning through the medium of English.

Mr Prusa crucially picked up on a question which was asked by a director after my talk, 'How do we get our teachers to introduce this method in our schools?' This is a big question, and of course it depends on specific contexts in individual schools to do with resources, teachers, materials, levels of language, pedagogy. Mr Prusa said the first step should be to involve the parents, get them involved. In his school, they organize English days which have parents invited to see and hear what goes on. They organize performances where children 'act' as teachers to teach the teachers, parents in the audience watching and experiencing the education their children go through themselves. Mr Prusa went so far as to say that CLIL is about involving the wider community in learning in English. Certainly makes me wonder about my own perspective when I'm talking about the importance of words and sentences!!!

The other presentation of a CLIL example came from Jarmila Novotna (jarmila.novotna@pedf.cuni.cz) from The Faculty of Mathematics at the Charles University in Prague. There is a paper from Jamila linked below on Maths CLIL.
Jarmila spoke of research she had carried out which reports that there is no detriment to the content of the learners from learning through a foreign language and with control groups results are equal, in fact one CLIL group in her study outscored the MT group in Mathematics tests. Jarmila stated though that there is rarely a specific focus on the language itself, the process is one of language acquisition through the immersion process. I have to say, I was listening through an interpreter who was also translating for another person, so I may have misunderstood some things, but I'm not sure about this last statement. I'd like to see some of the classes, get to know the learners and the teachers and see how much of the language of Maths the learners actually do acquire through immersion. Jarmila did state that while there may be an initial content sacrifice when working through CLIL, in the long term there is ultimately no loss of content.

I met other colleagues as well with various requests. I hope they read this and do get in touch with requests they mentioned (lots of colleagues say they will, but most don't!!!) Do get in touch, will do my best to help!

Keep an eye on CLIL in the Czech Republic, interesting things are developing there!