Poland - Fieldwork in Geography bilingual teaching
Fieldwork in Geography bilingual teaching
BILINGUAL HERODOT* WORKSHOP, TORUŃ, OCTOBER 2–4, 2009
Pics and news from Ola Zaparucha
The theme of fieldwork as a focus for three days of continuing professional development for Geography teachers from across Poland and abroad all working through the medium of the English language. 
WORKSHOP PROGRAMME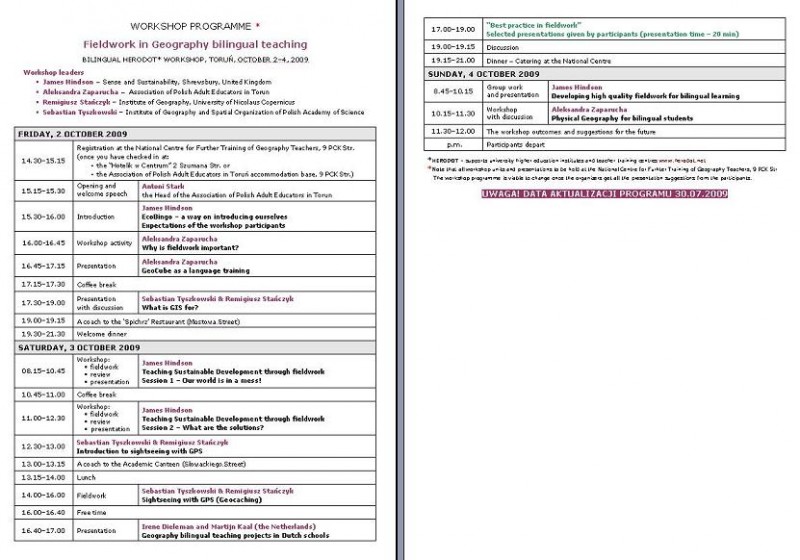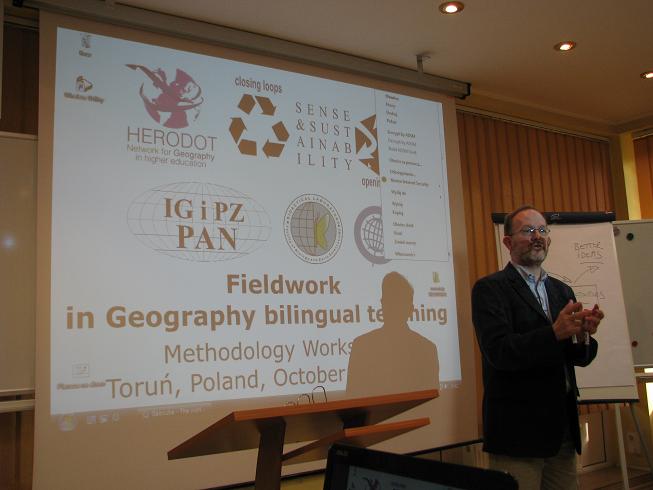 James Hindson from Sense and Sustainability, UK, leading the introductory session of the workshop.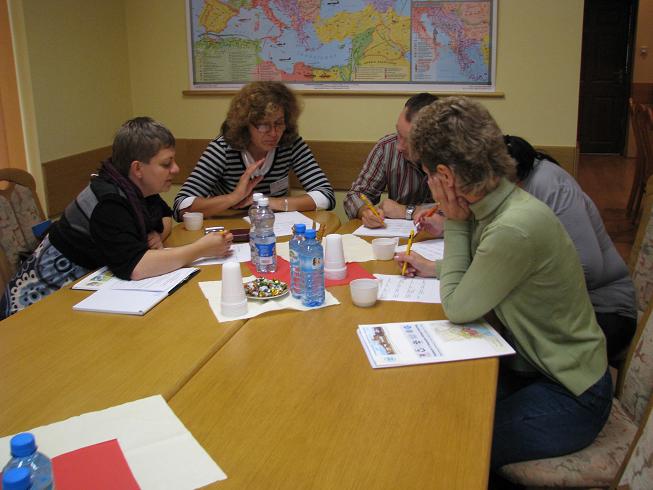 Working on EcoBingo - James distributed handouts with various questions to help us intorduce to one another.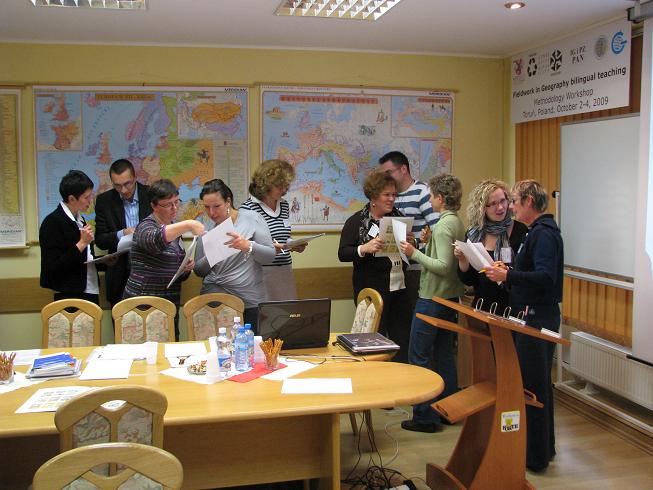 There was no way out - at some point of EcoBingo we had to stand up and walk around to meet other people!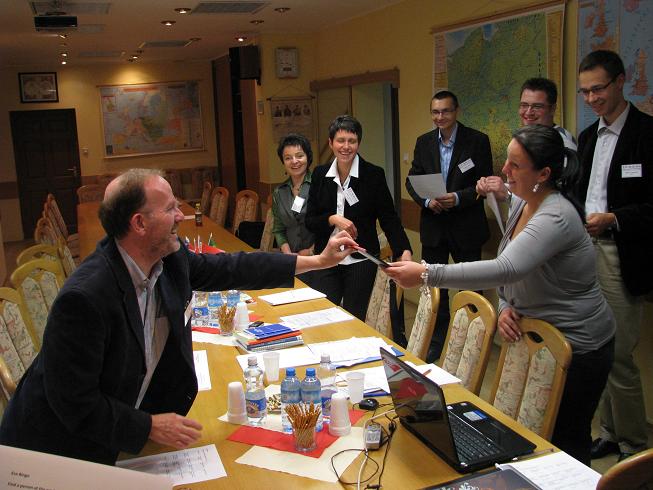 James was really well prepared for the workshop! The winner of the EcoBingo activity got a bar of chocolate - fair trade chocolate, of course!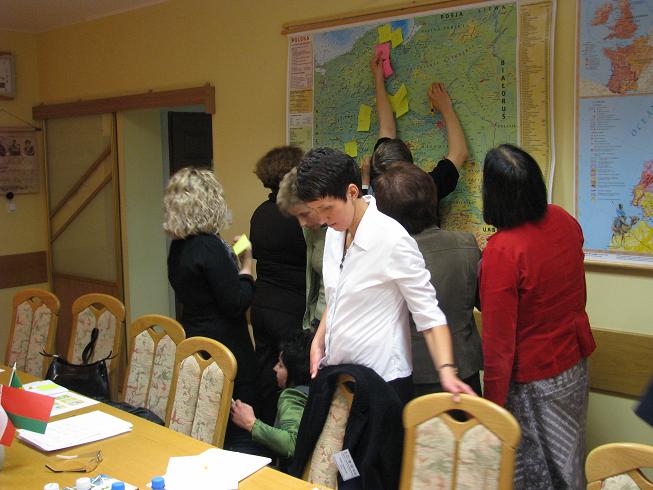 We are all geographers - so we like maps! James asked us to stick a piece of paper with our name on the wall map of Poland. Those coming from the cities on the Baltic Sea had a bit of a problem a they were not tall enough!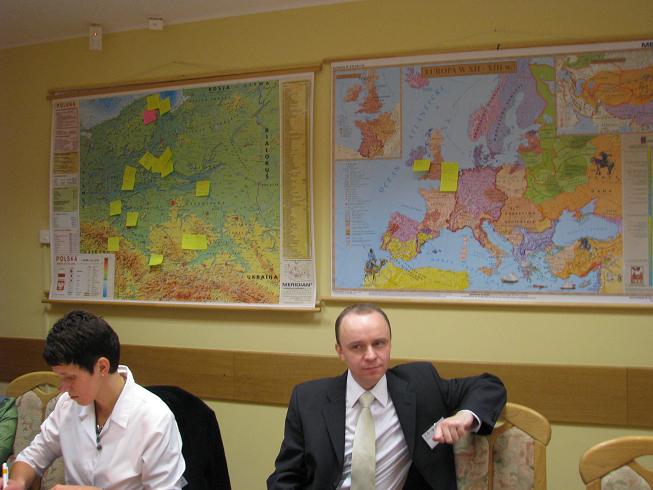 There was even an extra map of Europe for our colleagues from other countries - James Hindson from the UK, and Irene Dieleman and Martijn Kaal from the Netherlands. The person on the right is Marcin Stark - one of the heads of the Association of Polish Adult Edcuators which organized the workshop.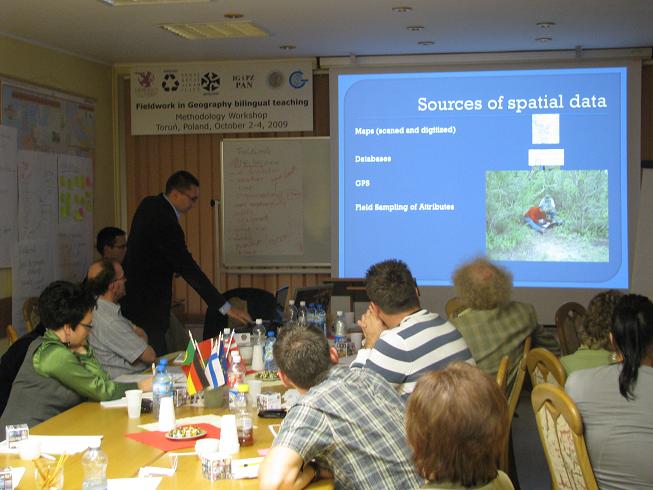 A presentation on Geographical Information System (GIS) and its practical uses delivered by Remek Stańczyk from the Institute of Geography, University of Nicolaus Copernicus in Toruń and Sebastian Tyszkowski from the  Institute of Geography and Spatial Organization of Polish Academy of Science i Toruń.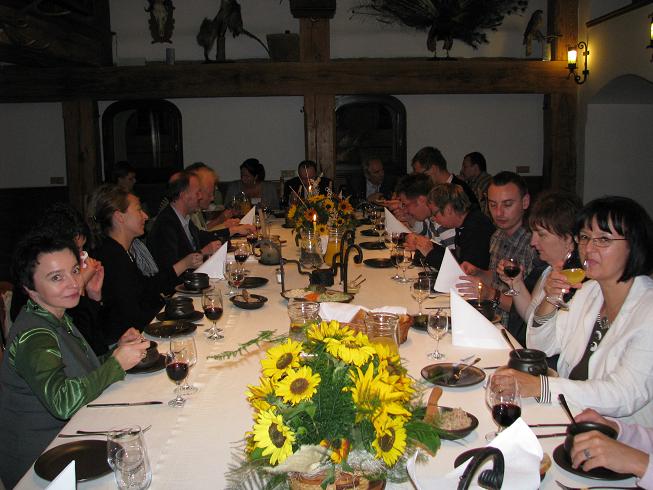 An evening meal in a lovely restaurant called 'Spichrz', which means 'granary' as the building is a Swedish-style granary from the 17th century. Traditional Polish food...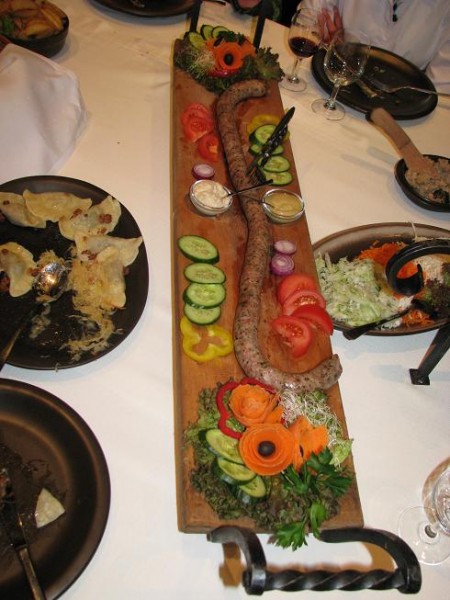 with an extra long sausage...
live folk music...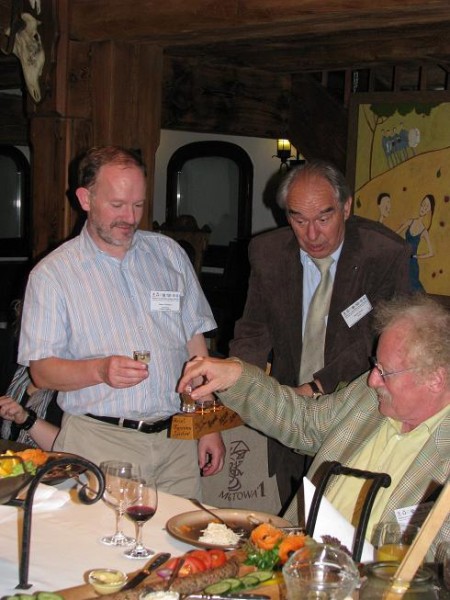 and vodka!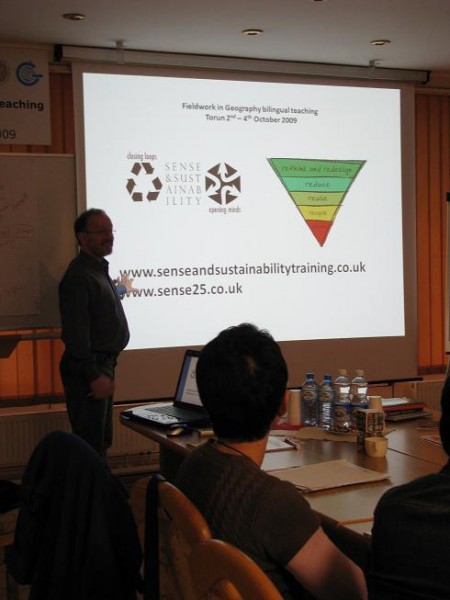 On Saturday morning James had an introductory presentation on sustainability.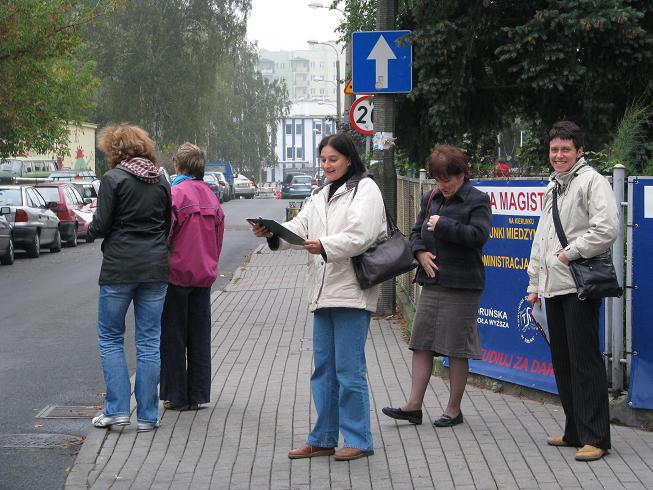 The first fieldwork activity - checking how unsustainable the neighbourhood is. Luckily, although it was cold it did not rain.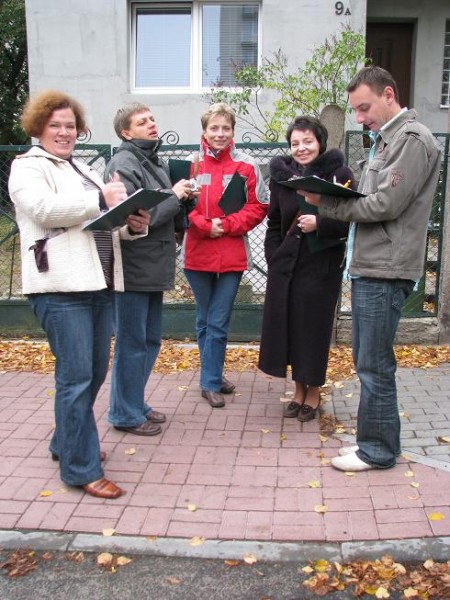 All the participants were divided into 4 groups and were sent in four different directions - to the north, south, east and west!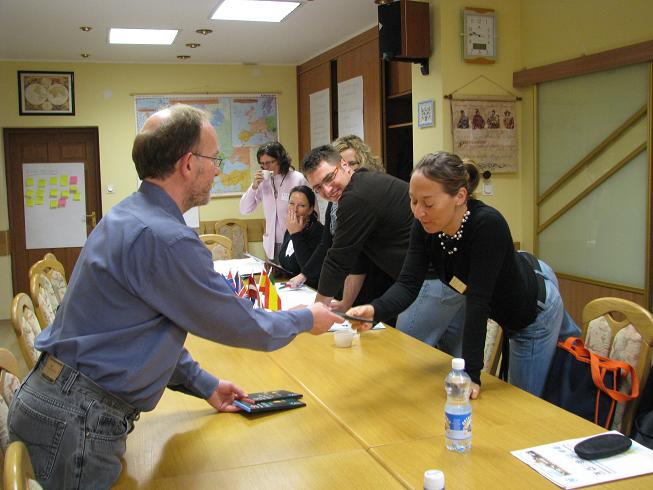 On our return, James had an extra bar of chocolate for each group! It was well appreciated, as we were cold and there was another task for all the 4 groups. Each of them had to prepare a poster prsenting in what ways their location was unsustainable regardin the social, economic and natural sphere.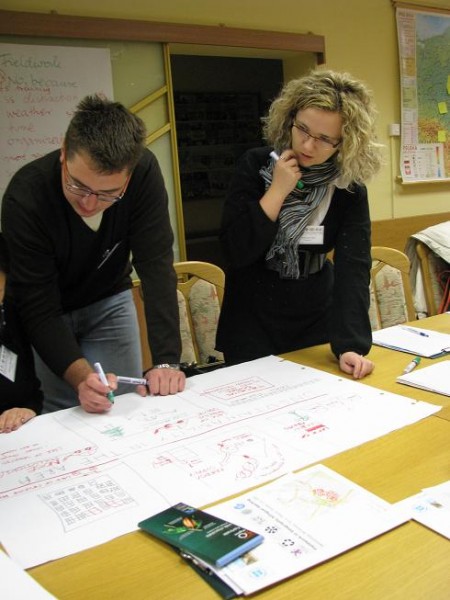 Working on the poster.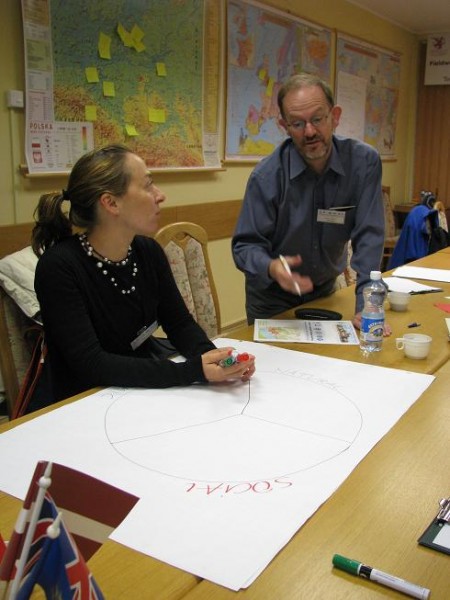 James helped if necessary...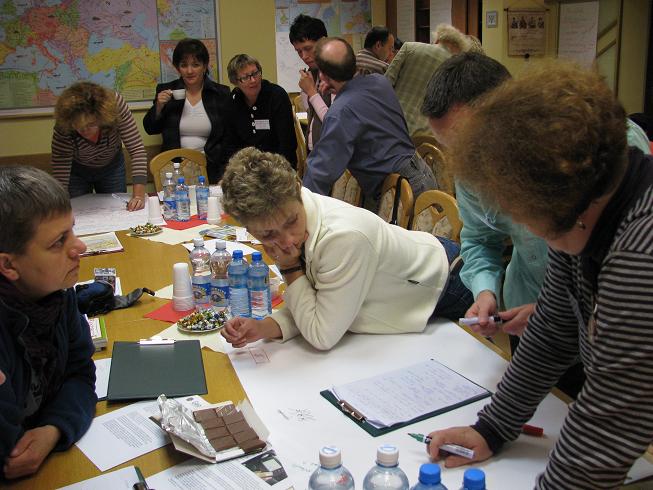 Each group had a different style of work...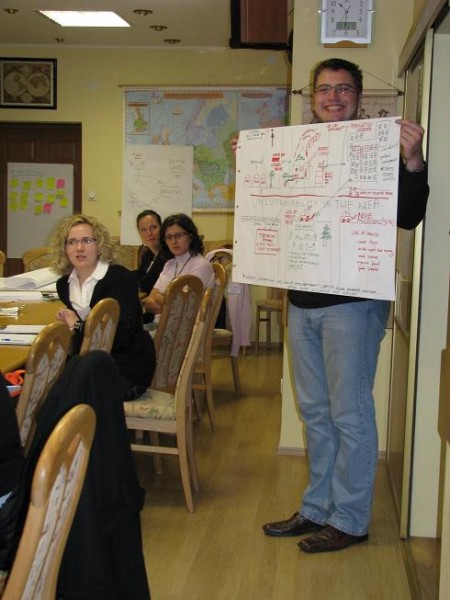 Presenting the posters...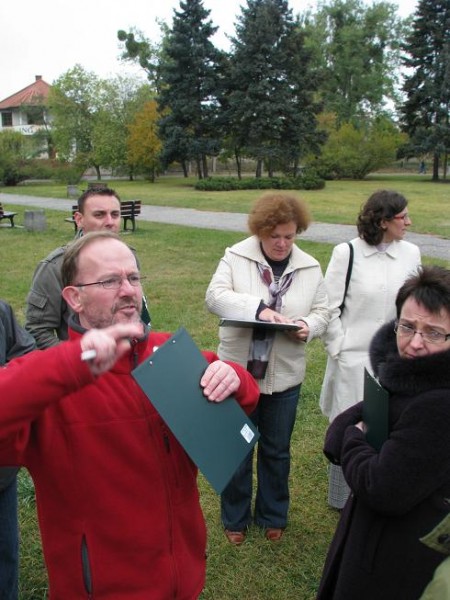 James explaining another field activity - the task this time was to observe a tree and check how sustainable it is in terms of energy uses or waste produced.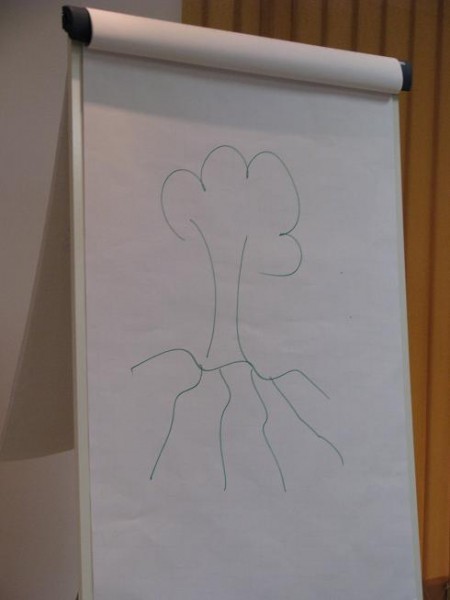 On our return all the groups gave their ideas to James. We went from this simple drawing of a tree...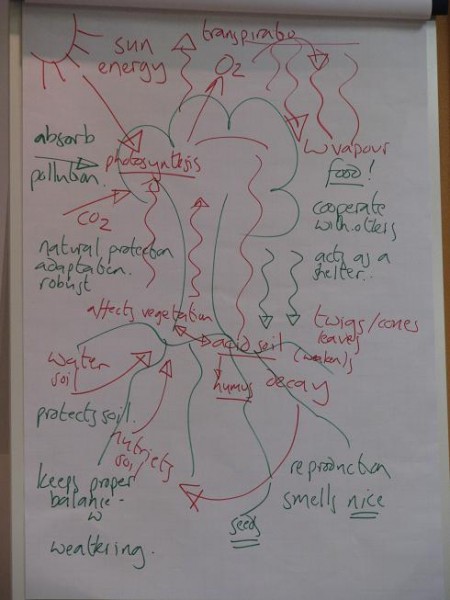 to such a a complex, yet very sustainable system.
After a short presentation on Geographical Positioning System (GPS) and a lovely dinner we went for another fieldwork activity - usisng the GPS receivers two groups were to get to certain points in the city centre and, instead of finding caches as in typical geocaching, to answer question connected with the objects on the way.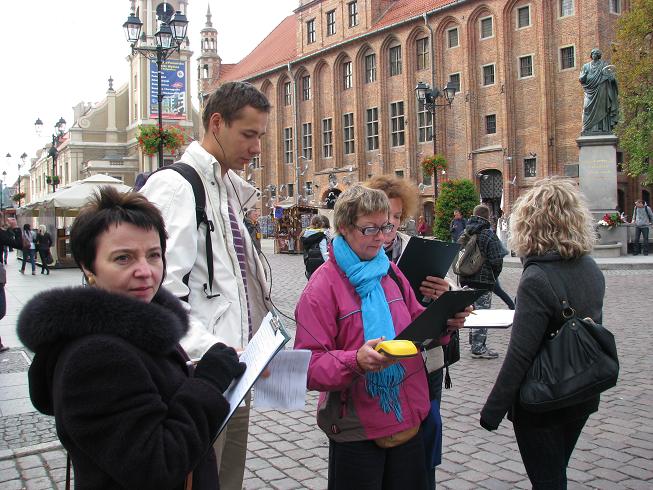 At the beginning it seemed a bit complicated, as two separate groups were following the same route! However, they had different coordinates!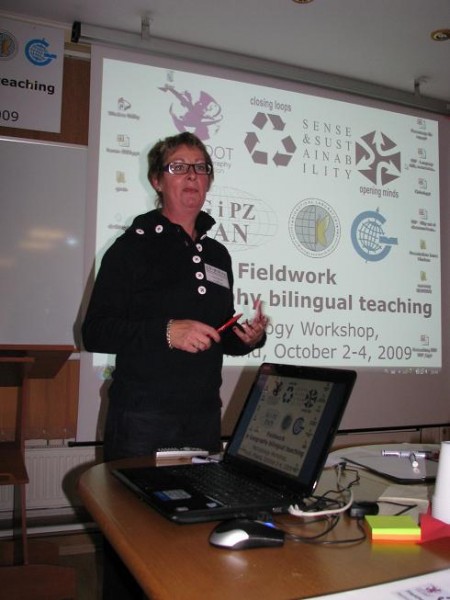 After a successfully completed GPS walk and a bit of free time for shopping for souvenirs (Toruń is famous for its gingerbread) we listened to a few presentations of our colleagues. Irene Dieleman from Goes, the Netherlands, spoke about bilingual education in her country. We were a bit envoius hearing on the number of training sessions the teachers in the Netherlands had a chance to take part in!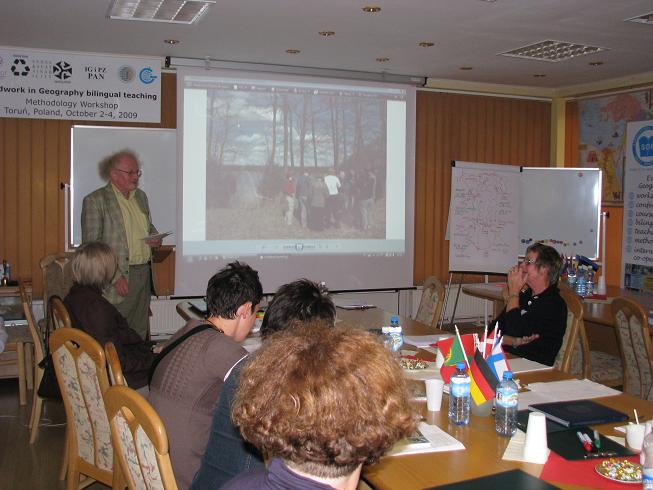 Martijn Kaal from Amsterdam told us about fieldwork activites he does with his students as well as on his personal perspective of bilinual teaching.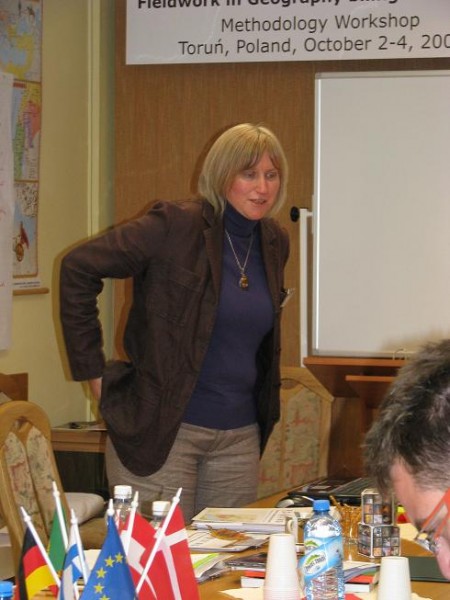 Lucyna Hartowicz told us about the action undertaken by her school towards sustainability.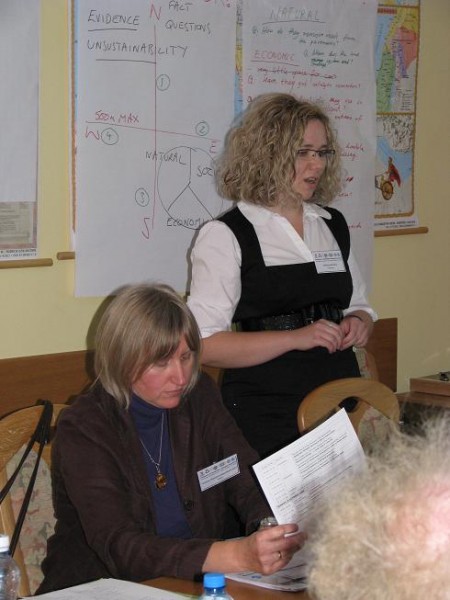 Małgosia Byca from Warsaw had a presentation on fieldwork undertaken with her bilingual class in Warsaw. Studying a stream in urban setting prooved to be a challenging task!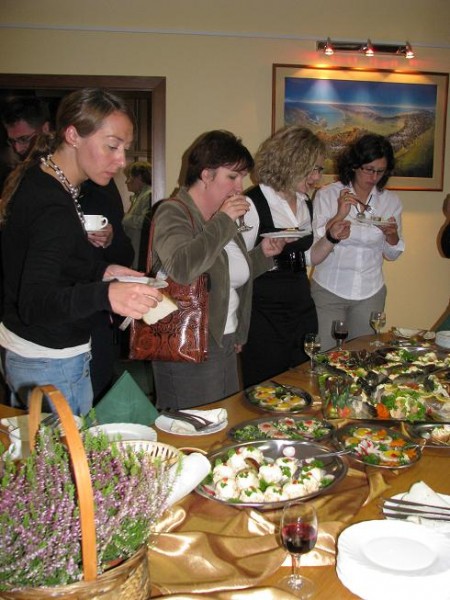 An evening meal on the premises was a nice way of concluding the day!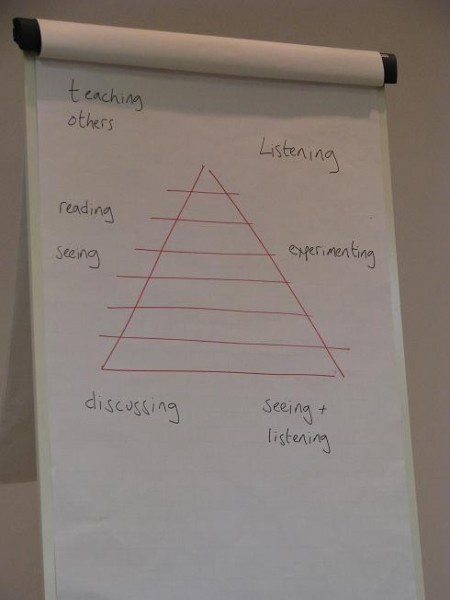 The Sunday morning was devoted to a presentation on teaching and learning styles.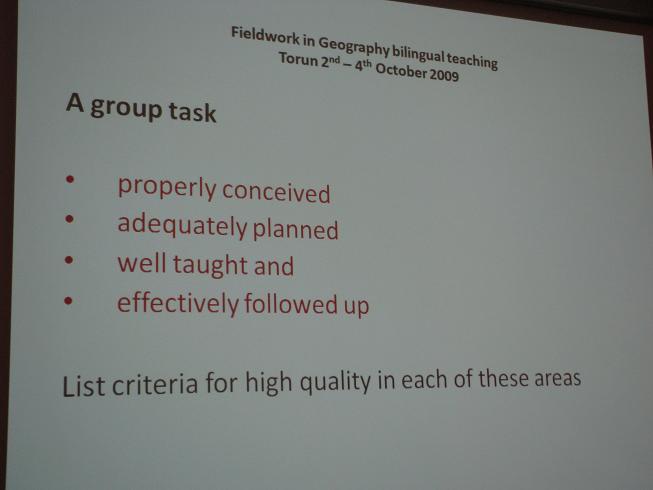 There was also time for a discussion on quality fieldwork.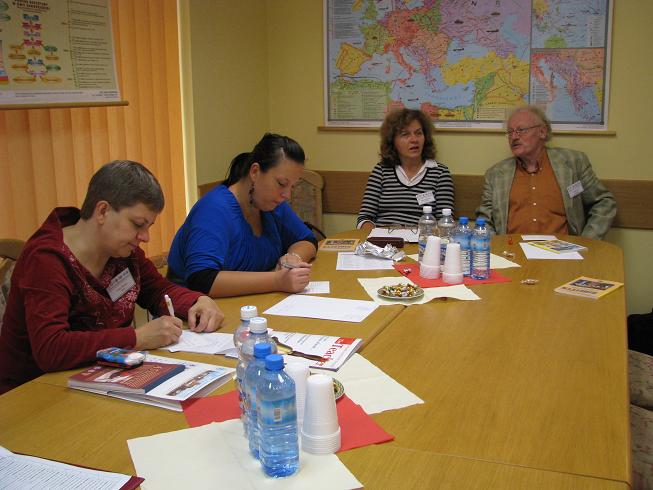 The hardest task of them all! James distributed postcards showing Darwin (the greatest figure for Shrewsbury where James comes from). The task of all the participants was to write what type if fieldwork they promise to carry out with their students before the end of the school term. The postcards were later collected by James. He explained he will send them to people in a few month's time as a reminder of what had been promissed!
Farewell and thank you time!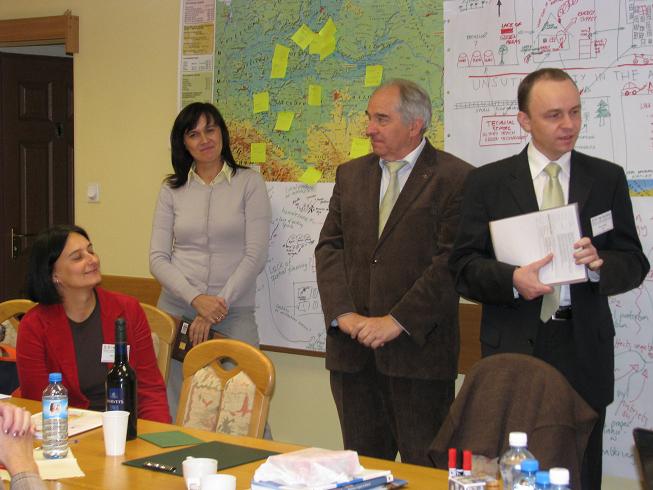 Standing from the left: Basia Stark - the head of the National Centre for Further Training of Geography and History Teachers, Antoni Stark and Marcin Stark - the heads of the Polish Association of Adult Educators in Toruń, whcih also is a publishing house. It is a family business, indeed!
The following presentations are available in the links below:
SOP - Why out of classroom learning-1.ppt (80KB)
SOP - JAMES - Presentation 2 - the world is in a mess.ppt (4MB)
SOP - JAMES - Presentation 3 - the solution.ppt (4MB)
29th Oct, 2009