Malaysia - Maths and project/problem-based learning
Integrating Maths with project/problem-based learning, Nov-Dec 2007
This is a short report in a mail to me on a valuable and interesting initiative from Ng Khar Thoe, the Science Across the World representative in Malaysia.
Dear Keith,
Thanks for the info. I had informed Marianne earlier that we had tried to integrate Mathematics lesson with project/problem-based learning. The article was published in Nov. 2007 issue of "Learning Science and Mathematics" (LSM) on-line journal with the following URL:
http://www.recsam.edu.my/lsm/index.htm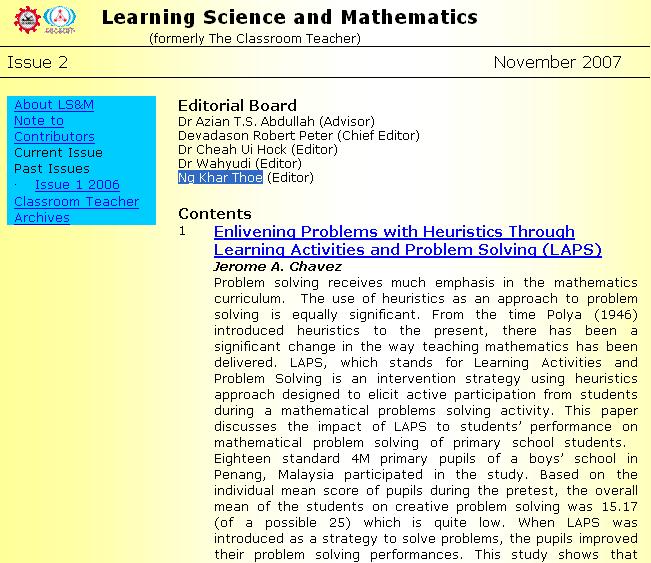 Attached also herewith the
pdf version of the article
with
adapted exchange form
and abstract for the paper presented in the recent International Conference on Science and Mathematics Education (
CoSMEd
):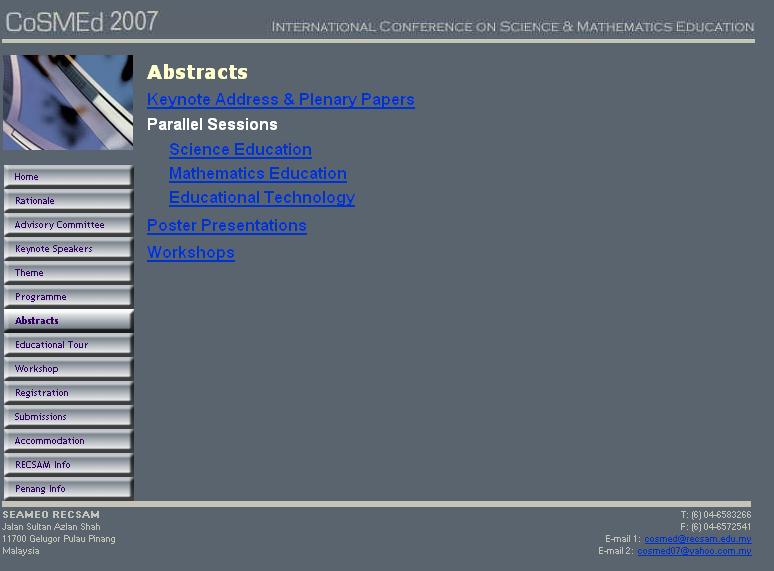 Redefining mathematics classroom incorporating global Project/problem-based learning programme
Tan Khan Aun
Tun Syed Sheh Shahabudin Science Secondary School
khanaun@gmail.com  
Ng Khar Thoe
SEAMEO RECSAM
nktrecsam@gmail.com
Ch'ng Yeang Soon
Penang Free School
yeangsoon1960@yahoo.com.sg
Teoh Boon Tat
SEAMEO RECSAM
teohbtat@gmail.com  
Since 1990, "Science Across the World" (SAW) international web-based learning programme aims to raise awareness of the ways science and technology interact with society and environment. Numerous research conducted based on social constructivist learning theories has revealed that SAW is an exemplary e-learning programme promoting project/problem-based learning (PBL) activities. Students' interest in learning science related topics was enhanced tremendously. Seeing the importance of cross-curricular teaching to redefine mathematics classroom via global PBL programme, the researchers had devised a mathematics lesson incorporating human-values via SAW web-based programme. They tried out the lesson with a group of Form 3 secondary students in TSSSS Secondary School on 29th October 2006. In addition, an evaluation questionnaire was also piloted with 25 students to explore the possibility of evaluating students' enhanced values/attitudes towards PBL via SAW global mathematics project. This article will briefly report how the school tryout was conducted with the mathematics lesson plan being illustrated. Findings from observation and interviews with selected students involved in the study and sample students' output of learning will also be delineated including the "Global Mathematics project" exchange form entitled "Water, Precious Water". The form was later sent via SAW database to a group of in-service mathematics teachers attending the "online mathematics teaching and learning" training course at RECSAM (6th November to 1st December 2006). The piloted questionnaire was also refined for use in a subsequent study. The researchers concluded with discussions on the implications of the findings of this study including suggestions for future tryouts of mathematics project/problem-based learning classrooms.
We have also successfully conducted CoSMEd pre-conference SAW workshop on 12/11 (with 40 seats officially) funded by GSK, Malaysia. Many teachers had registered for an account for their schools as informed by the website they will be given free for life registration before 31 December. Many thanks for the support from ASE again. I will also be involved as facilitator for a PBL workshop for educators from 13 to 15 December organized by SMJK(C) Chung Ling and Vision Academy (M) Sdn. Bhd. I will keep you informed of the outcome later. Thanks.
Regards,
Khar Thoe
08 Dec 2007