Bulgaria - FACT Meeting - CLIL
FACT Meetings return!
The European Association of Teachers (AEDE) and Anglia School are collaborating to provide ongoing professional development meetings for teachers.
The first meeting will focus on good examples of CLIL (content and language integrated learning), showing a range of resources, activities and projects which will be of interest to both language teachers and content subject teachers alike.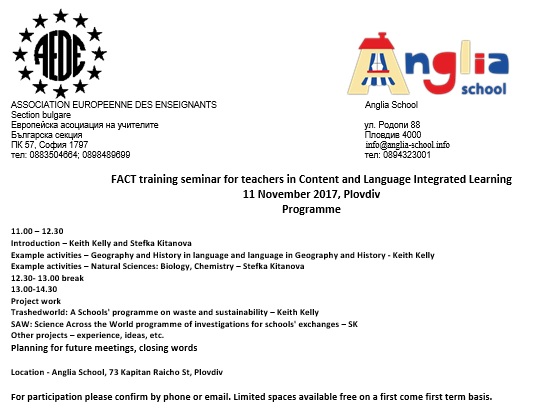 The first meeting will take place in Plovdiv on Nov 11th at Anglia School's Kapitan Raicho Street premises.
Tell your teacher friends and colleagues, this important meeting will work towards building a community of teachers sharing and developing ideas together.
We look forward to seeing you there!