Asturias - Asturian CLIL
Asturian CLIL
16th-19th Feb, 2009
Getting to know content and language integration in Asturias
I've just spent a delightful three days in Asturias in Northern Spain.  Even the EasyJet flight which took me back to Bulgaria from Stansted had a piece on Asturias in its magazine. 
Never having been there before, I knew very little about the place, thanks to my host Gilberto now I know much more.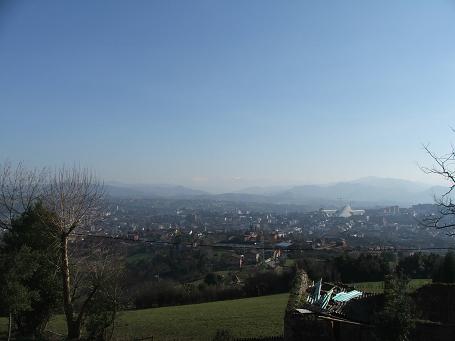 Asturias from neighbouring hillside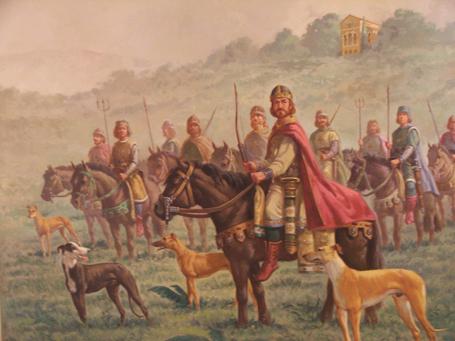 Ramiro I out on a hunt, lodge in background
I know about the Cross of Victory in the Cathedral in Oviedo and King Ramiro I, as well as his hunting lodge.
Asturias has a large network of primary and secondary schools, around 140, working in content and language integration.  Many of the schools have been delivering parts of their curriculum through English as a foreign language for the last five years.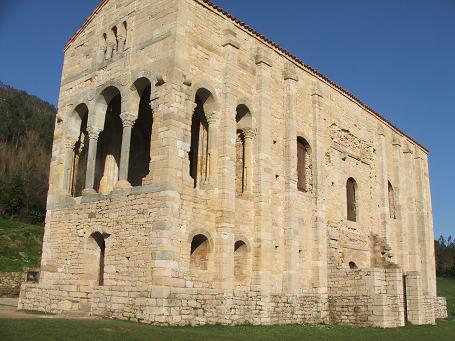 hunting lodge today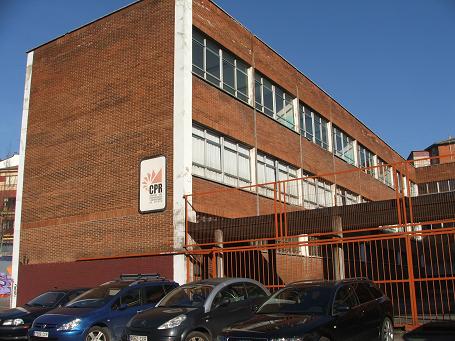 The CPR, Oviedo
Gilberto Fernandez (gilbertotf@educastur.princast.es) works as a trainer and advisor at the CPR or Centro de Professorado y Recursos.  We coined a new name for them while I was there - CardioPulmonary Rescucitation Unit – task force of specialists with the brief to keep the network healthy and in good shape, and Gilberto invited me to come and work with his network over a busy two days.
Straight from the airport, Gilberto whisked me off to a number of sites in Asturias' capital Oviedo where he told me about the country's history, culture, language and much more and then treated me to wonderful food and drink from the region. 
I won't forget the Oricios in a hurry!
I learned that if you go to a cider bar in Oviedo you should take an umbrella with you!
Education Ministry Asturias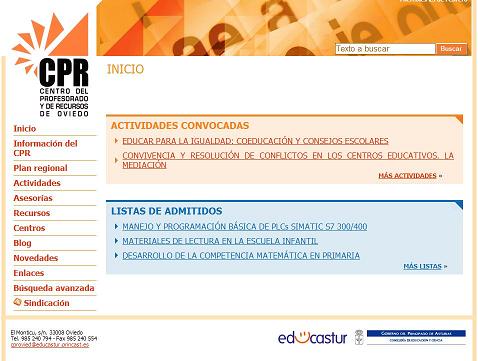 CPR site 
I met first of all with 10 of Gilberto's colleagues who all support the work of language teachers and content and language teachers around the country and we were joined by Pilar Cortejoso Hernandez (PILARCH@princast.es) from the Asturian Ministry of Education (www.educastur.es).  Gilberto and I had discussed what I should present and we came up with resources, assessment and training.  Needless to say that the agenda took a slightly indirect route as questions arose and colleagues wanted to go off in a different but related direction.  In the process it was an ideal opportunity for me to hear at first hand about the development of the bilingual programme in Asturias, its problems and successes.
I prepared material based on my brief from Gilberto, but experience tells me that you can never really tell the agenda until you arrive, and so I took plenty of extra bits and pieces with me.    
All of the trainers and advisors signed up to the factworld yahoogroup and I'm hoping that we can get one or two of them to join us in discussion in Café CLIL at some point to share their many experiences with the rest of us.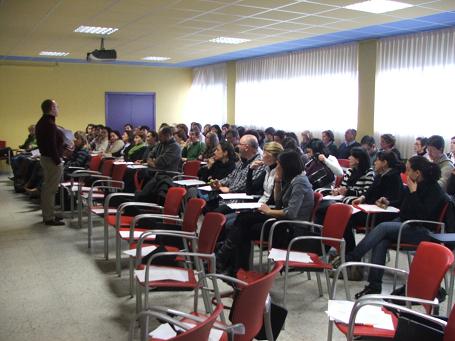 Gilberto gets us started with primary CLIL teachers' network
After a break, we came back to the CPR to prepare for a group of 100 or so primary teachers from the bilingual schools network.
I spoke about primary CLIL and techniques for identifying language from the content curriculum.  I also showed a number of sources of primary materials and we talked about issues to do with evaluation, but again with a focus on language within content. 
I showed the group the science across the world website and thanks to David for agreeing to be my guinea pig to show the signing up process live to the rest of the group.
I advertised the
www.onestopclil.com
website to shout about, among other things, the lesson share competition going on at the moment with the great prize to be had – you didn't know?  Well, take a look, NILE are offering a free course as a prize on one of their courses to the winner! 
I showed the Science Year CDs (
www.sycd.co.uk
 - now hosted at the STEM website) with all that they have to offer for teachers looking for great resources, but did stress that there may still be a need for adding language!  
I've always felt that CLIL at its heart is about just that, about what you do with the language, how you deal with the language, how you support the learners as they process and produce language in their content curriculum.  It's important to stress this point as there are many perspectives on CLIL appearing today.  CLIL is described as a whole-student approach to education, involving good relations with the community and parents, a focus on cultural knowledge and many others.  For me, however, what sets CLIL apart from other approaches, whether they be language or content approaches is what is done to embed language in task, what is done to scaffold learners in their learning so that they have language accessible to them to enable them to carry out a task (the rest, by and large, is just good practice and to a certain extent we all agree about it).  I think there is disagreement about the language principle in many areas and indeed colleagues have suggested to me that in a content lesson focusing on language may distract learners from the content, some (both language teachers and content teachers) even suggest that it's unnecessary and that language will come in the rich language bath learners are being given in content lessons in English.  My feeling is that not to pay attention to language in content means not to pay attention to all of the learner's needs and that a teacher's job includes knowing what to expect from learners in terms of language to express their content, knowing how to provide learners with this language when and where they need it during content tasks in their classrooms.
This issue came up a lot during my visit to Asturias.  This doesn't mean that colleagues in Asturias took the opinion I describe above, far from it, we were in total agreement about the role of language in content teaching.  The visit was however a springboard for me to express this idea a number of times during the presentations and workshops I gave.
It's what you do with the language that counts!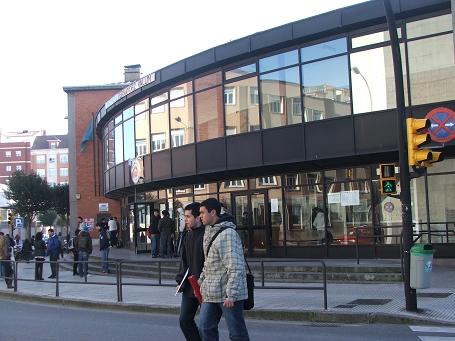 Fernandez Vallin school
, Gijon
Second day to Gijon to visit Fernandez Vallin school (web.educastur.princast.es/ies/fvallin) where the entire science department is teaching its curriculum through the medium of English.  I have to take my hat off to Asturias and colleagues in this programme.  It is by law forbidden to select students for these programmes, and this means that students from all backgrounds appear in CLIL classrooms in Asturias.  This school was a wonderful atmosphere of energy and enthusiasm -  thanks to Luiz, Gloria and colleagues for their warm welcome and engaging discussion as well as the students of the 2nd year class I observed doing their biology in English.
I observed a biology lesson given by Gloria and Carrie with half a class of 13 year olds.  They are lucky in this school to be able to split groups so that learners get more teacher time and attention in the bilingual programme. My observation notes are linked below.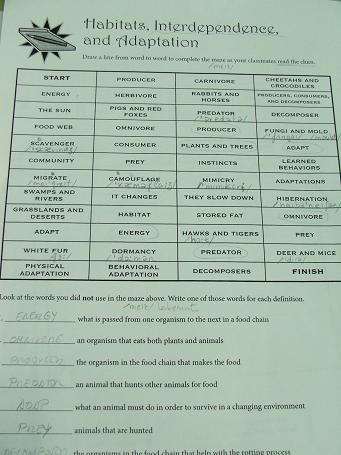 The class did a lot of work on vocabulary for habitats and adaptation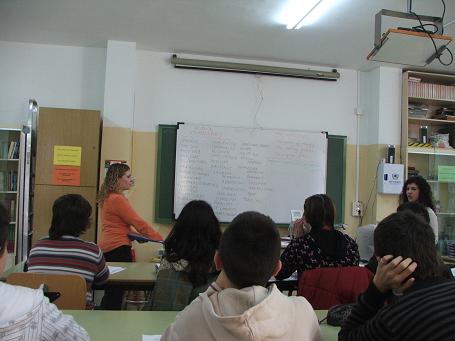 Carrie and Gloria teaching Biology in English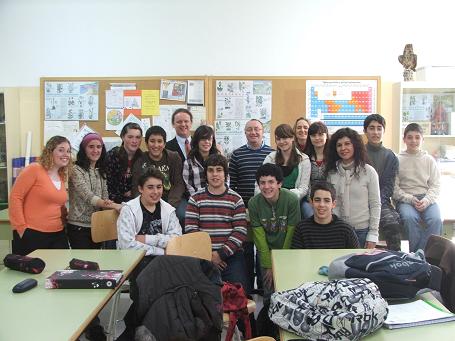 Year 2 class studying through English at Fernandez Vallin school, many thanks!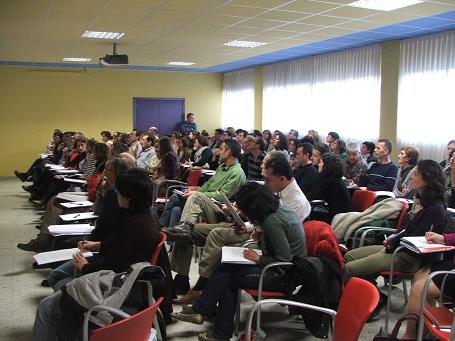 In the afternoon, we returned to Oviedo for a second three hour workshop with around 100 sercondary teachers of content subjects through the medium of English.
The group was very interactive and had many questions and points to raise as I spoke about the points below and showed resources.  Gilberto had asked me to be sure to talk about collaboration between English teachers and subject teachers.  We brought this issue down to the very specific concrete job that both can do which is to identify an area of the curriculum where learners need language input to help them carry out content tasks, plot out the language, make a decision about how to give the learners the language, produce a resource with this language embedded in it and then arrange for a lesson where both teachers are present to pilot the material they have just made to see how it works in practice.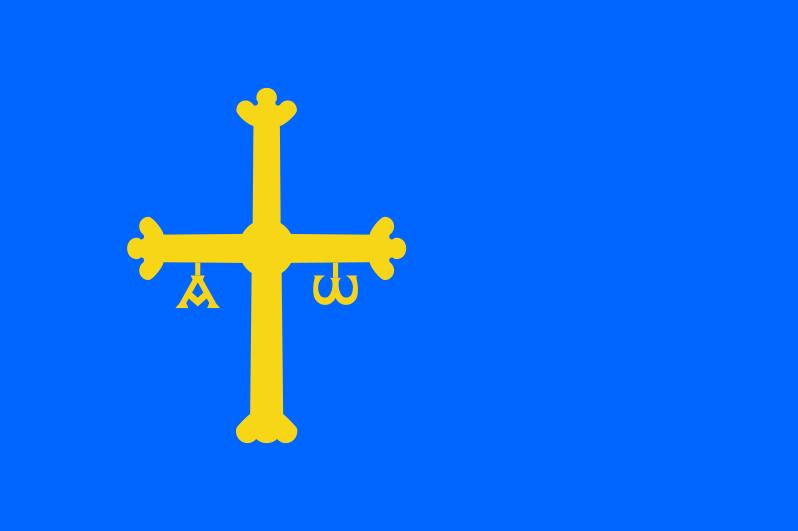 Victory cross on the Asturian flag
Even before I'd left, Gilberto, Pilar and I were talking about areas for development of the already successful programme.  One particular area of concern expressed by one teacher very well during a workshop is 'lack of confidence' in English.  We talked briefly about how teachers can gain this confidence.  Pilar and Gilberto are instrumental in taking their teachers to native speaker contexts, to do job shadowing, to attend training courses in the UK and Canada so there are many opportunities for teachers to get exposure to the language.  There are also courses in language for teachers working through the meidum of English.  This reminds me of the Malaysia project which has a course of language for Science and Maths teachers.  This may be a useful model to explore for Asturia.  Secondly, there may be a useful role for setting up mechanisms for teachers to peer observe and peer mentor.  In a country where there is little readiness to open classroom doors to external observation (these are the teachers' words, not mine) this may be a good development offering teachers who lack language confidence to have a sensitive friendly colleague observe for specific purposes (language for classroom management, for example) in order to feed back in to the language development of the teacher being observed.  The other area I would like to try and get involved in with this project given its scale is to work with small groups of subject teachers mixed with English teacher colleagues and look specifically at embedding language in tasks in the subject classroom.  There is definitely a role for the language teachers to help in this process given their language training and knowledge.  All it needs is a push of the button to set the process in motion.
I also learned that the bagpipes are one of Asturias' national musical instruments and both Gilberto and Pilar advised me on what music I should buy while in Oviedo, I couldn't find what they suggested at the airport shop, but I did get 'NACai - Gatos del Fornu' which is great.
Not only was the trip very motivating from a professional point of view, just to see what has been achieved, and to consult with colleagues dealing with the daily grind of making it happen, I think I made some friends into the bargain!
Hope they ask me back again.
PPT on resource management for CLIL is below
PPT on secondary assessment is below
PPT on language awareness for CLIL is below
PPT on the bilingual programme in F Vallin School is below