tigtagworld
tigtag - tigtag jr - twig 
Video-based education and CLIL
(15.12.17)
tigtag -
www.tigtagworld.co
m/clil
 - I was invited to work on this wonderful website recently as the developers wanted to create a CLIL version of the resources.
I've been working busily on a section of the site to create CLIL templates for other authors to work with.
The plan eventually is to roll out the entire site in a CLIL version.
Excited? I am!
- - - - - - - - - - - - - - - - - - - - - - - - - - - - - - - - - - - - - - - - - - - - - - - - 
Important notice - 16.02.08
Dear colleagues, am posting this announcement on behalf of colleagues at the wonderful site 
Tigtag
They are looking for primary science teachers to give feedback on the new CLIL version of the site.
Get in touch at the email in the text,
you won't regret it!
Best wishes
Keith. 
- - - - - - - - - - - - - - - - - - - - - - - - - - - - - - - - - - - - - - - - - - - - - - - -  
Are you teaching CLIL science to kids aged between 7 and 12? 
Do you have a Skype account and a couple of hours to spare? 
Would you like some vouchers to spend online? 
If the answer to the above is yes, Tigtag needs you! 
What is Tigtag (
www.tigtagworld.co
m/clil
)?
Tigtag is an award-winning film-based teaching resource. It covers science and geography for kids aged 7-12, with a bank of over 800 short, accurate, and engaging videos. 
Why do we need YOU? We're making a special version of Tigtag just for CLIL teachers.
To make sure we meet your needs exactly, we need feedback from teachers like you on our designs, our ideas and our content. 
Do I need to be really technical/experienced in teaching CLIL? Definitely not!
All we ask is that you are a practising teacher of science or geography in a CLIL/English Medium Instruction context.
If you're new to CLIL, or not confident about using technology, even better – we want to make sure our resources are easy to use for everyone. 
What's in it for me?
In exchange for a couple of hours of your time (online, you don't need to travel) we'll give you some shopping vouchers and a chance to help shape an exciting new CLIL resource.
We can also arrange free access to our resources for a limited time so you and your colleagues can try them out in school. 
How do I get involved? Please email clil@twig-world.com with a note of your name, school and location, the age of kids you teach and what subjects you teach, and how long you've been involved with CLIL.  
IN BRAZIL? If you're teaching CLIL in Brazilian schools, we especially want to hear from you – so please get in touch!  
- - - - - - - - - - - - - - - - - - - - - - - - - - - - - - - - - - - - - - - - - - - - - - - -  
At the site you'll find links to both a 'junior' site (for ages 4 to 6) - 
http://www.tigtagjunior.com/
 - which offers a free month's trial at the moment, and a 'secondary' site -
https://www.twig-world.com/
.
All being well, we'll work on the entire content for a CLIL audience.
The great news today is that the original tigtagworld.co.uk has just been updated and relaunched to offer an enhanced user-friendly online interface.
You'll have to watch this space for news of the CLIL resources. As we do more, I'll post updates here.
Behind the scenes the tigtag developer team is working on a wide range of adaptations and additions to the site. There are so many CLIL extras being produced that it's much easier to show you some examples.
CLIL Objectives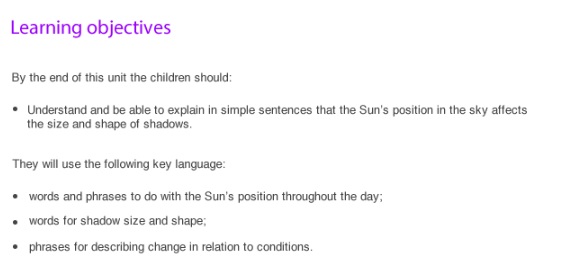 You'll find that the CLIL lesson objectives are written with language outcomes in mind.
Concept map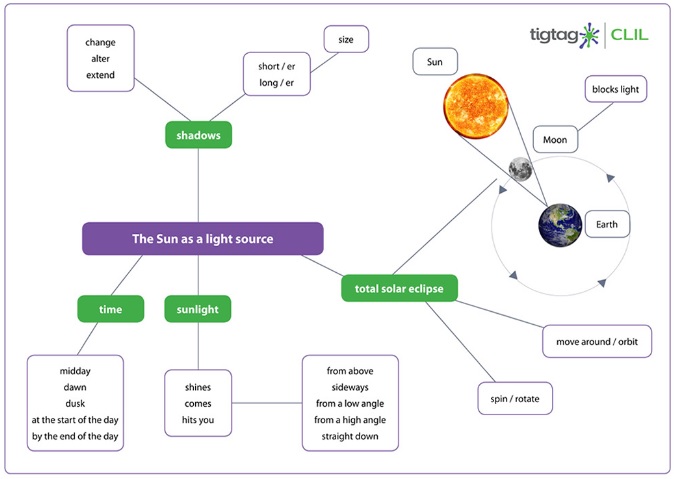 Each CLIL unit also comes with a tidy concept map summarising the key content and language. This map is also offered as a communicative activity for learners to engage in to recap what they've learned.
General academic language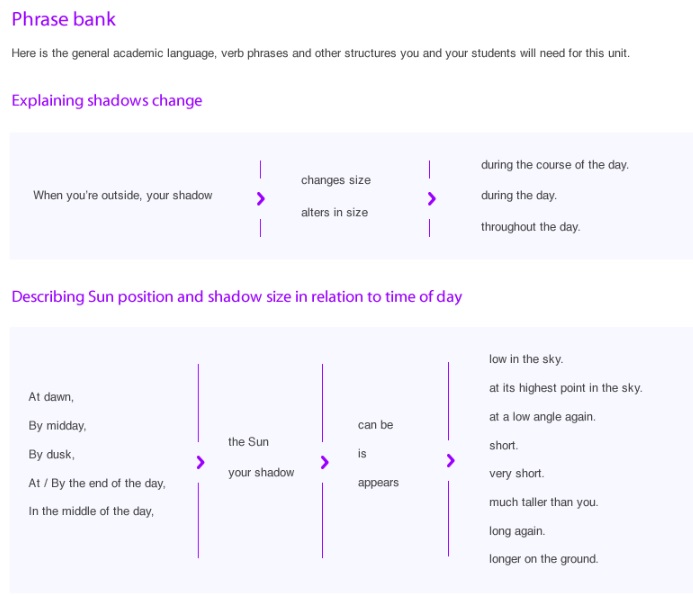 I've examined the language of the units very closely to be able to offer a review of the main cross-curricular language functions I found.
Language-supported investigation sheets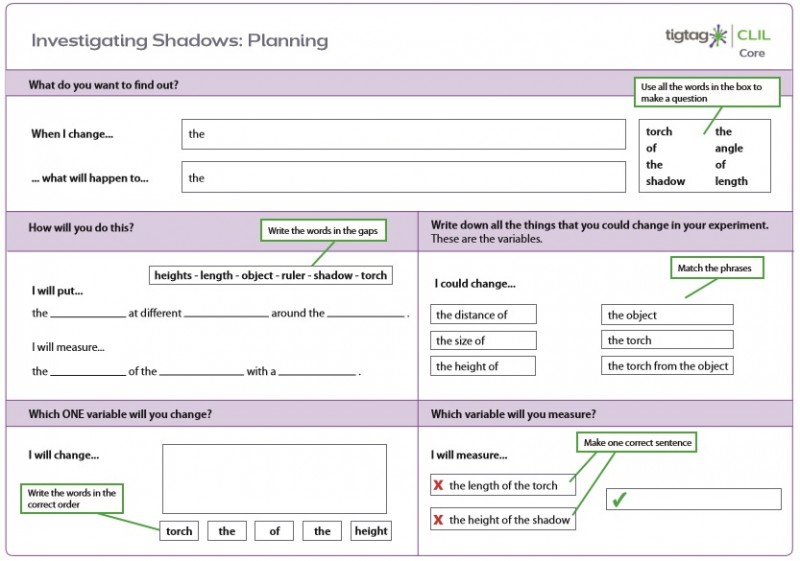 In the science units you'll find experiments and investigations for the learners to do. The CLIL version offers the same investigation sheets with language support embedded within the sheets, on the page.
Unit glossary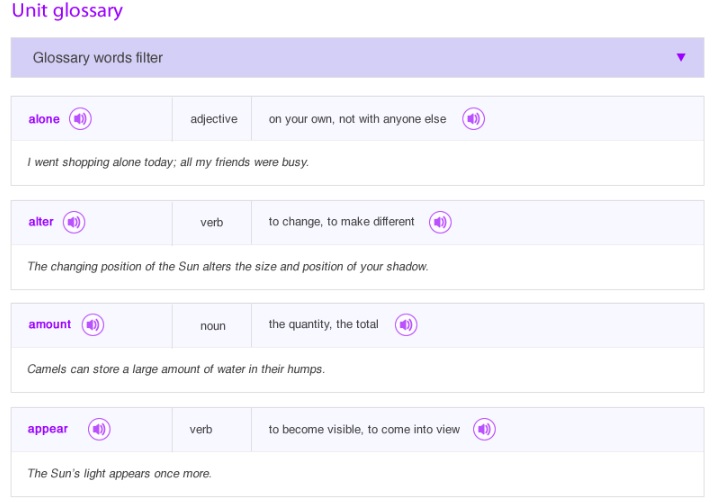 Every unit has been trawled to give a comprehensive accessible glossary for both learner and teacher to use. The words and definitions are all accompanied with well-pronounced recordings to help with understanding and pronunciation.
Communicative activities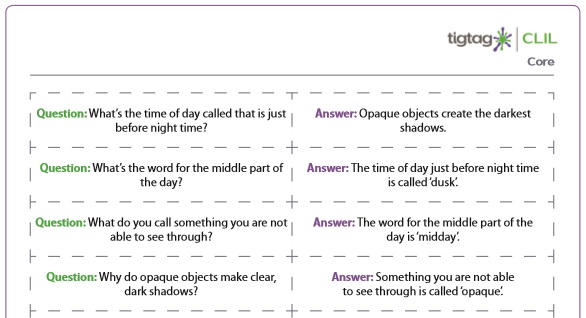 The glossaries feed into information gap activities for learners to do to practise words they meet.
AND, there is so much more. I'm fidgeting about in my seat waiting for it all to go live. Keep watching this space!