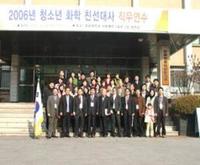 Korea - YACs came to Korea
YACs came to Korea this week...
This Young Ambassadors of Chemistry workshop was sponsored by IUPAC – the International Union of Pure and Applied Chemists, the Korean Chemists Society, Chonnam National University, and partners included GSK, the British Council, and Bio-Rad.
The event took place from Monday Feb 20th to Friday Feb 24th...
read more