China - Science Across the World in Shenyang
Science Across comes to China!
Shenyang ELT Roadshow, February 9-19th, 2004
Liaoning Basic Education Research and Training Centre
Science Across the World came to China during a ten day in-service teacher training course held for primary and middle school teachers from the Shenyang region of Northern Eastern China from February 9-19th, 2004 with 70 participants.
The course itself looked at good practice for teaching young learners of English and offered participants an insight into current trends in methodology, classroom practice and task design.
The Liaoning Basic Education Research and Training Centre hosted the event and provided excellent administrative support.The intensive programme had a practical focus with an emphasis on providing participants with ideas and materials to take back to their classrooms.The course is part of an extensive British Council/NILE initiative in collaboration with local institutions offering teachers in China the latest in teaching ideas and classroom practice.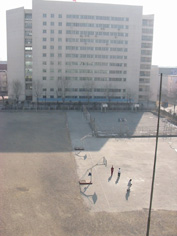 A popular aspects of the course was Science Across the World programme of school exchange projects. Teachers in China don't get a lot of opportunity to communicate with classrooms, teachers and children in other countries and these colleagues were keen to sign up.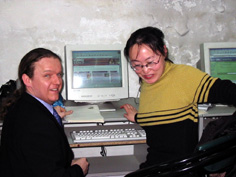 All of the 70 participants were offered free subscription to Science Across the World. This is part of an initiative to expand the programme in specific regions around the world, of which China is one.The teachers were enthusiastic and welcomed ideas offered and they had a thing or two to teach the tutors about the reality of teaching 60-70 children in schools in China!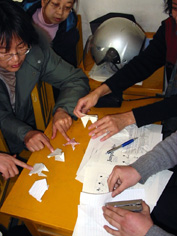 The teachers were presented with certificates recognising their attendance and the work done.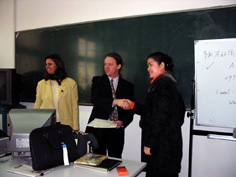 The food was fantastic!
Course tutors were Keith Kelly and Laura Renart, Associate Tutors with NILE.
Many thanks go to local colleagues (Linda and daughter Linda, Diana, Mary) for their hard work and patience and for looking after us. Thanks also go to the participants for their hard work and enthusiasm.