Germany - Science Across the World in Heidelberg
Science Across the World in Heidelberg
21-22 May, 2004
Science Across the World had a stand, activities and three team members, Stefka Kitanova, Egbert Weisheit and Keith Kelly, at the EMBO 3rd International Workshop for Science Teachers at the European Molecular Biology Laboratory, Heidelberg, Germany. 
41 colleagues from the 120 participants at the conference gave us their contact details to be included in our network and to be kept informed about future Science Across events. A couple of colleagues even signed up to the programme on the spot!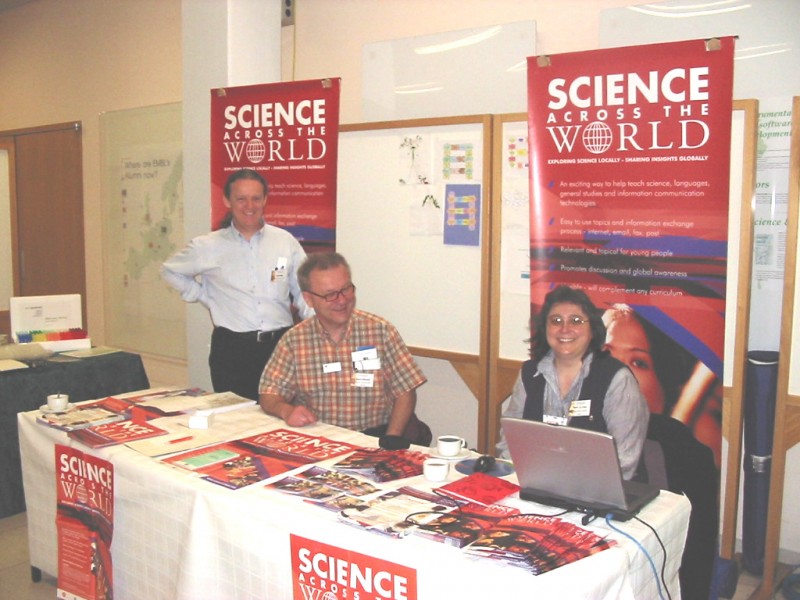 Up and running – the brightest stand!
There was a number of colleagues working in significant positions who were particularly interested in the programme…
Colleagues from schools in Cumbria, Rotheram, London and Ireland were interested in making links with each other and in the possibility of spreading the word of Science Across among their colleagues and local schools. Keith will look into visiting their schools himself at the nearest opportunity to help them to do this especially in Cumbria where Steve Smith at Sedbergh School is head of Biology and who will be back at the school from his sabbatical in September and who would like to get his colleagues in both science and language interested in Science Across.
There was a substantial group of colleagues at the conference from Italy and they were keen to find out about Science Across work already going on in Italy. The same was true for the largest group of colleagues from Germany of whom many saw the Science Across project as one way of meeting the growing demands of State ministries in Germany for an increase in the teaching of subject matter through a foreign language. They also included Dr Brigitte Kern-Veits (Referentin fuer Biologie, Chemie, Geographie) – supervisor 'Oberschulamt' for bilingual education in Tuebingen region. Brigitte was very glad to hear about Science Across and other Content and Language work in Germany and suggested that we could work together on future projects.
Another colleague, Armin Konrad, a Biology teacher from a town near to Heidelberg and who coordinates a newsletter for a network of 160-190 Biology teachers in the region suggested he could post information about Science Across in his newsletter at 
www.ginkgo-web.de
.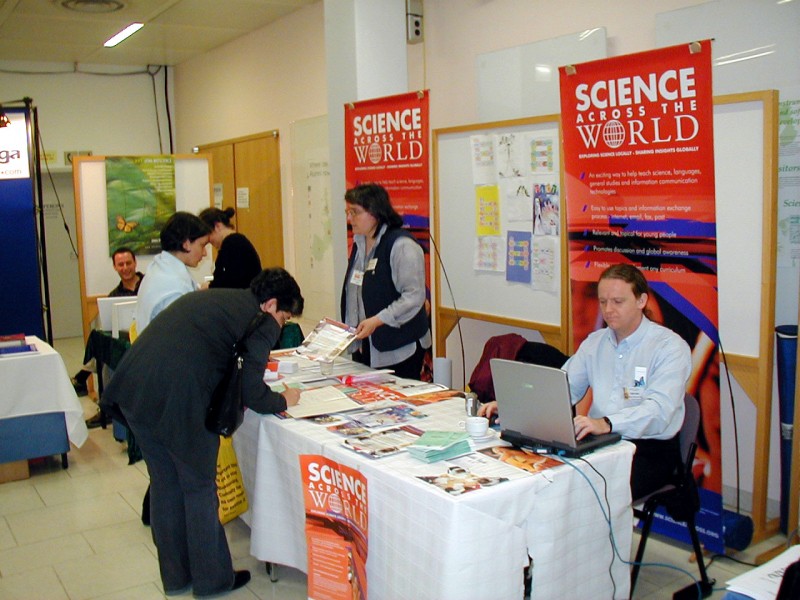 Colleagues signing up
Stefka painted tongues while she investigated Supertasters among the participants at the workshop and Egbert suggested the idea of a paper for next year's workshop focusing on the language of science. We'll work on it and keep you posted! It was a great event in terms of feedback from colleagues about Science Across.Welcome to them all to our programme and network!
Egbert, Stefka, Keith