Spain - Multilingual education in the Basque country
Multilingual education in the Basque country, 
29th Sept to Oct 1st, 2004
I spent a nice three days in Bilbao last week working with a group of 16 advisors and trainers who train teachers to work through the medium of three languages: Basque, English and Spanish.
If that's not astonishing enough, almost all of the teaching materials they have written are freely available to download at their very modest yet wonderfully rich resources:
Primary
http://nagusia.berritzeguneak.net/hizkuntzak/inebi-1-1.php
Secondary
http://nagusia.berritzeguneak.net/hizkuntzak/bhinebi-2.php
They tell me, again modestly, that there is still much to write and produce and still much to review and revise BEFORE they begin to publicise what they have achieved over the last five years. I hope they'll forgive me for advertising their work for them. Take a look, it's a valuable resource both for language teachers looking for content resources and for content teachers looking for FL-medium materials. 
The Teacher Training and Resource Centre, Durango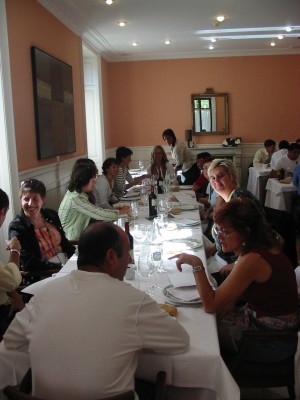 Working lunch…
I wondered how I could possibly help such resourceful colleagues and I have to say that my own review of their materials has suggested very small amounts of adaptation. There is useful work to be done offering 'language support' materials to supplement the resources already created and so provide for language production through the History/Geography/Science themes in the materials. I'm pleased to be able to help these colleagues produce these materials.We looked at preparing workshop materials for the fortnightly meetings these colleagues run for teachers in the network of some 300 schools working in multiple languages. The main focus of the materials adaptation and workshop themes was how to identify the language children are expected to 'produce' in written form, or orally, in the subjects being taught. We also looked at which tasks would be best for helping the students to produce this language.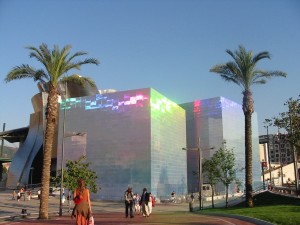 Science Art at the Guggenheim!
The answer to providing this 'support' can be found in language awareness activities where students mechanically identify the language they need. 'Underline verb phrases used for describing structure, function and location in the following text', then together with the teacher students organise the verb phrases into groups and these phrases are used along with a visual/table/diagram to 'make sentences'. Visuals themselves are the best way for 'guiding listening' in the content materials where a visual such as a diagram of the digestive system is labelled while the students listen to a teacher explain how it works. This visual then provides a 'semi-script' for learners to produce the 'language of digestion' and guide their speaking, or writing on the topic.In time we hope to provide supplementary sheets of 'language', 'visuals', and 'tasks' to accompany the source materials.