Latvia - Preparing for Training
CLIL Latvia, preparing for training...
The British Council in Latvia organised a three day workshop for teachers of content subjects and ELT in Jurmala this week, April 11- 13, 2007 at the Lielupe Hotel on the Baltic coast.
This is the third workshop over the space of a year for a group of teachers from Daugavpils and Ugale in Latvia.    
The workshops have focused on basic CLIL principles, materials writing, and piloting CLIL in classrooms in the teachers' schools.
This meeting brought them together to take a look at training teachers for CLIL, to consider if they might play a role in a trainer training follow up to this project.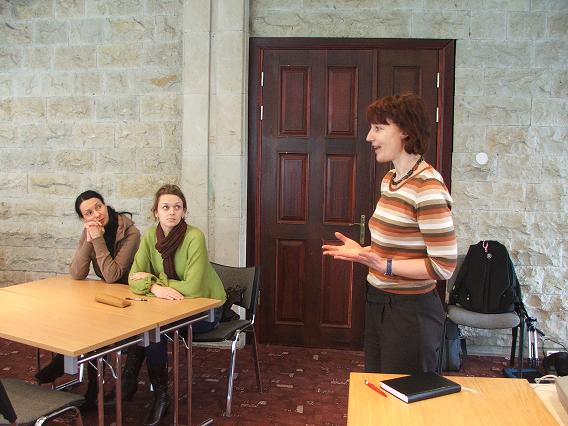 Inta gets us started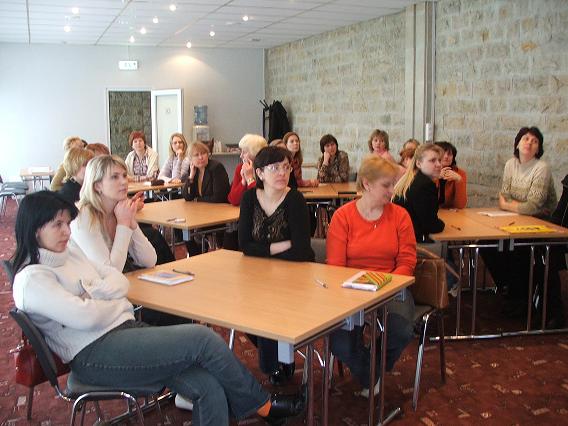 This is the last meeting in the project financed by the British Council in Latvia and the project in its trainer training stage will be taken over by the Ministry of Education.
Inta Baranovska will be coordinating the project from her post at the Min Ed.
The programme included:  
Day 1
Lesson planning
Micro-teaching
Classroom observation
Day 2
Micro-teaching lessons and observation
Day 3
Feedback interviews
Follow up open forum
The teachers were given an introductory session on lesson planning with specific reference to CLIL lessons and asked to discuss what makes them different from regular content lessons.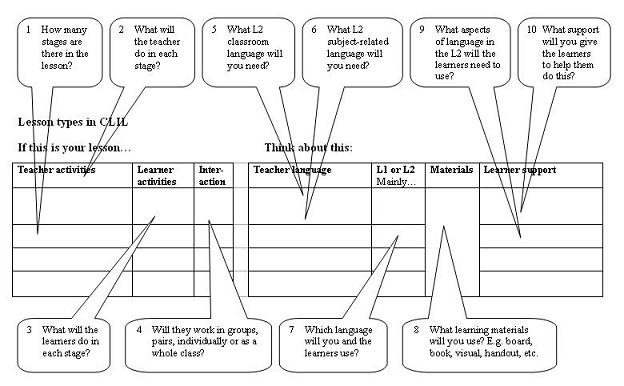 There are clear differences as indicated by the handout lesson template.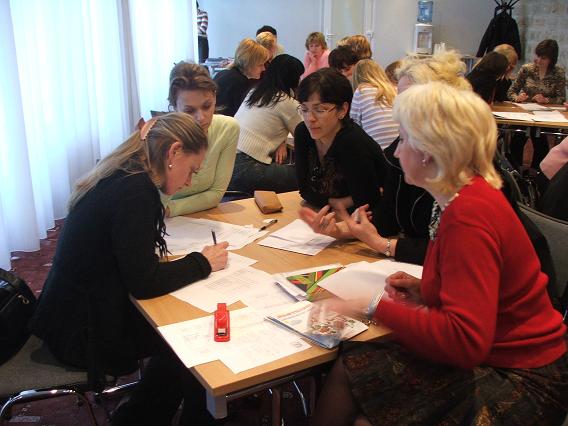 Carrying out observation...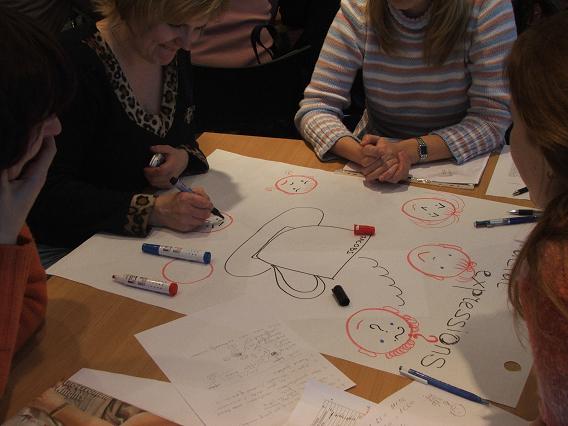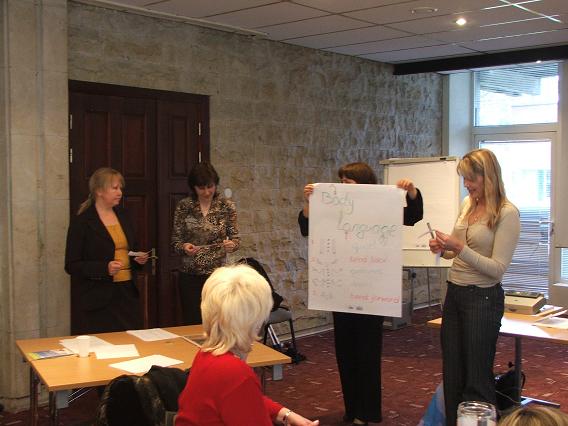 The teachers were also asked to carry out small-scale observation tasks within this group.  The aim of this task was to stress how classroom observation needs to be restricted and focused.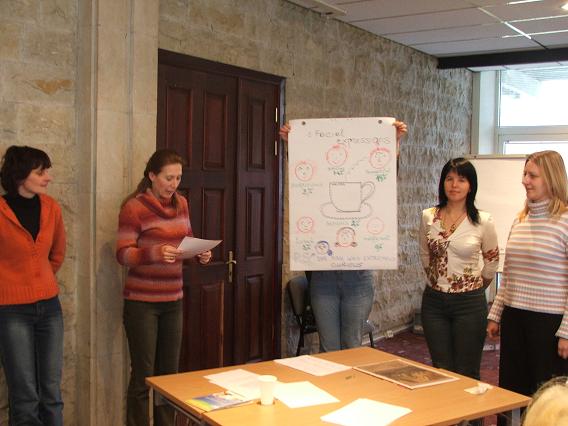 The colleagues were given an observation task card and this meant they were either observing: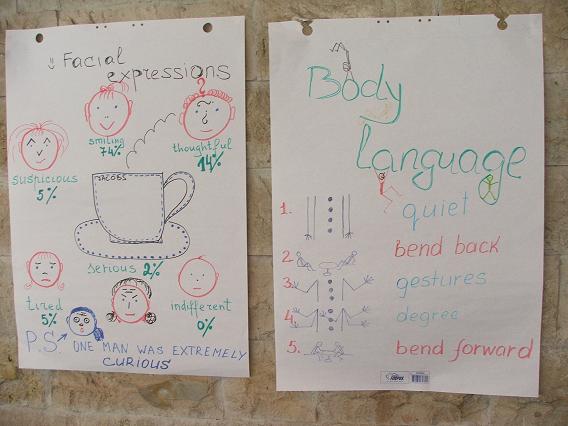 'body language',  'facial expressions'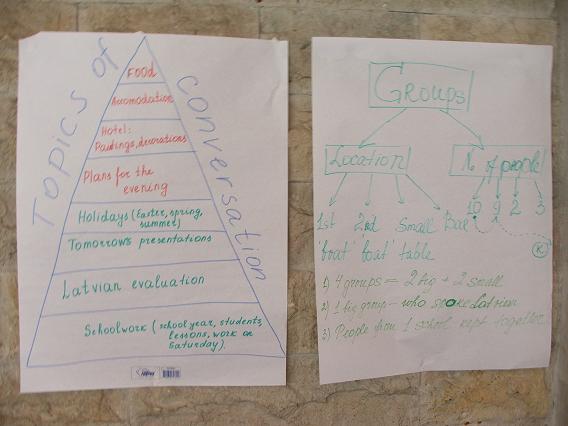 'movement', 'topics of conversation', 'grouping', 
After the coffee break where this took place the colleagues grouped up with those teachers with a similar focus to share data gathered and they presented their results to the group.    
Micro-teaching mini lessons...
The teachers had had homework to prepare for the event.  This involved them preparing a mini lesson with CLIL activities.  The idea was that the teachers would be observed by a small group of their colleagues in this group, they would be given interview time where the observers could reflect on the lesson with the teachers who presented the lesson.
The teachers were asked to be very clear about the aims of their mini lesson as this would form the basis for the observation by their peers.
The lessons were particular interesting and diverse and were very rich in CLIL ideas.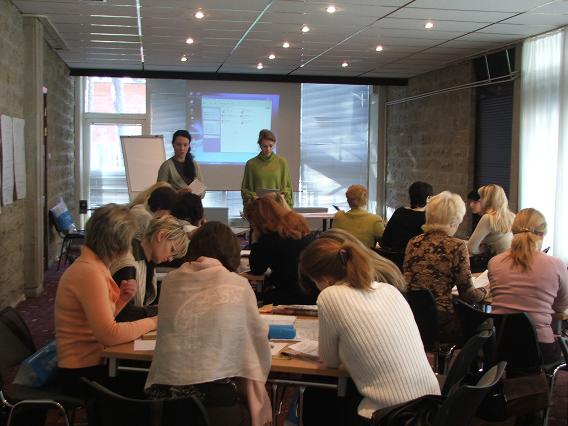 Micro-teaching tasks and preparation
Tasks and groups
1 Business and Economy, advertising forms, objectives, styles
Inesa and Svetlana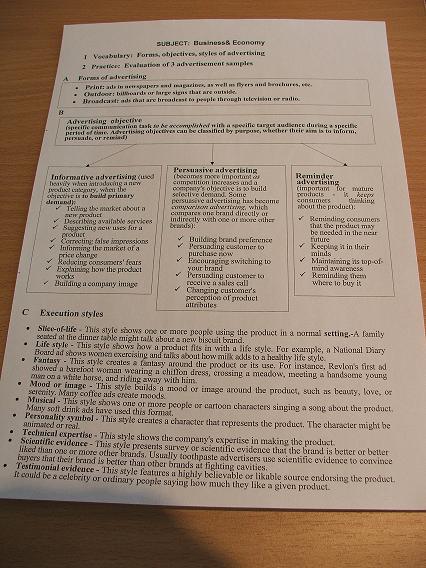 Aims:
Introducing specific terms related to the topic of advertising
Evaluate some advertisements using these terms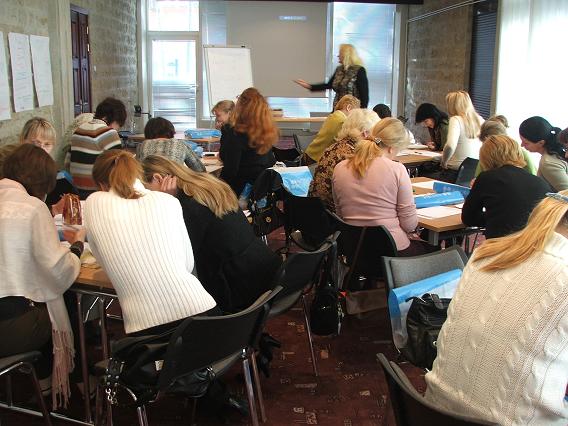 2 Maths (quadrilaterals)
Inese, Iveta, Svetlana
Aims:
Speaking activity through forming sentences with features / characteristics of quadrilaterals
.. to enlarge vocabulary…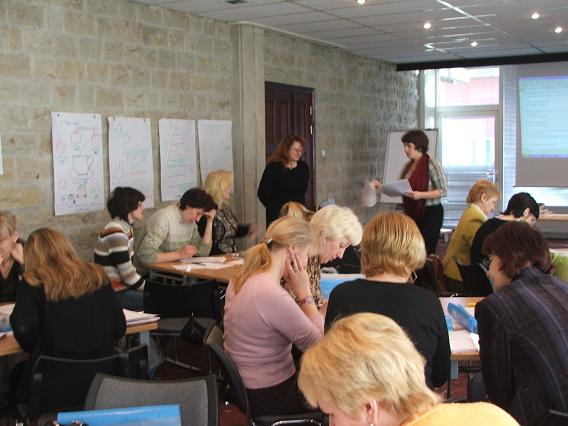 3 Physics (gravitation)
Oksana, Larisa, Svetlana
Aims:
To focus on vocabulary connected with gravitation
Revise Physics terms
Collecting terms for describing gravity (written) 
Develop students' reading skills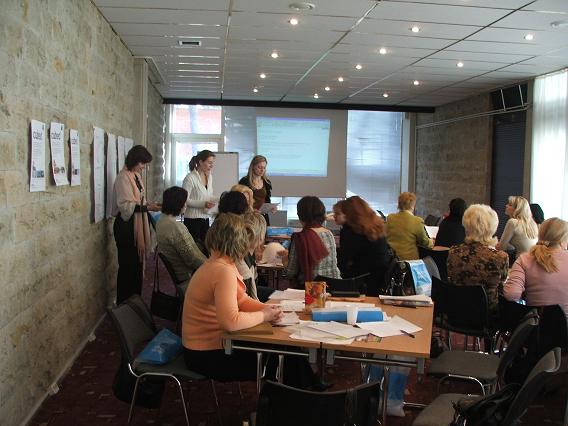 4 Biology (seed disposal)
Olga, Helen, Tatyana
Aims:
Development of reading skills via information transfer from text to chart
Group activity to check understanding of the text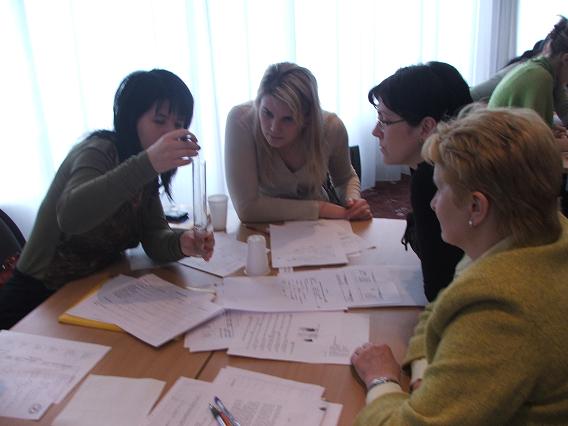 5 Measuring the volume of different objects
Lena, Elja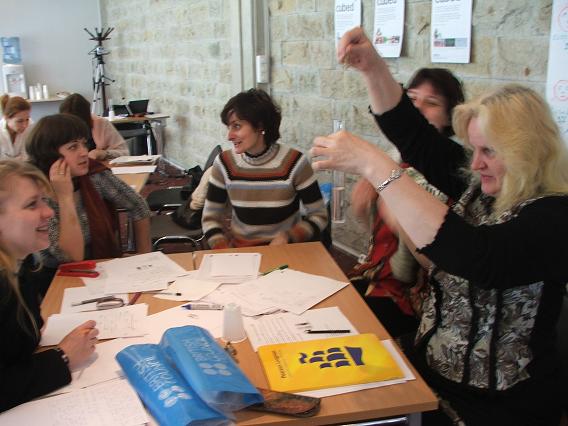 Aims:
To introduce vocab to do with the volume of different objects
Do practical work on volume of different objects in a lab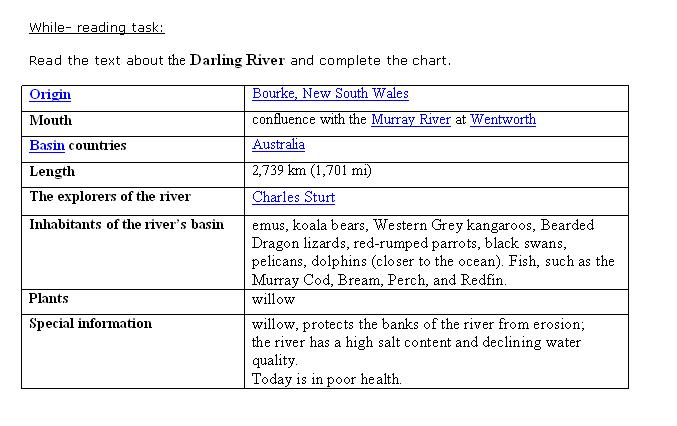 6 Geography (internal waters)
Natalja, Ludmila
Aims:
Teach factual knowledge about rivers of Australia (…)
Develop reading skills (fill in a chart)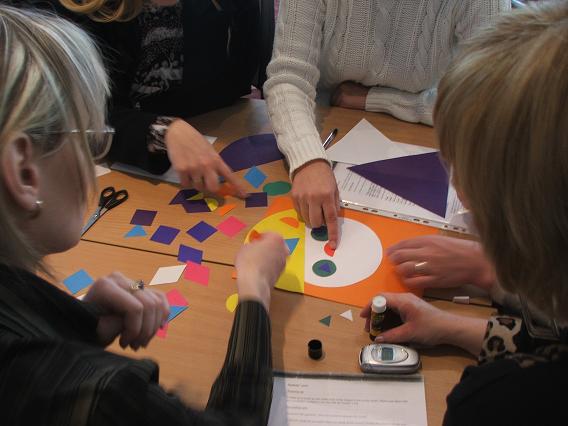 7 Art and Maths (making a portrait)
Olga, Alena, Ludmila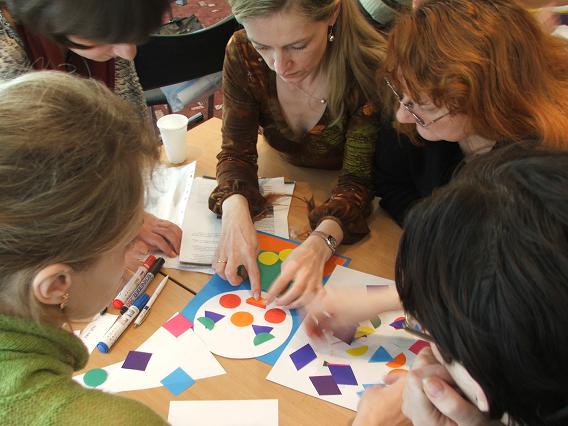 Aims:
Combine two lessons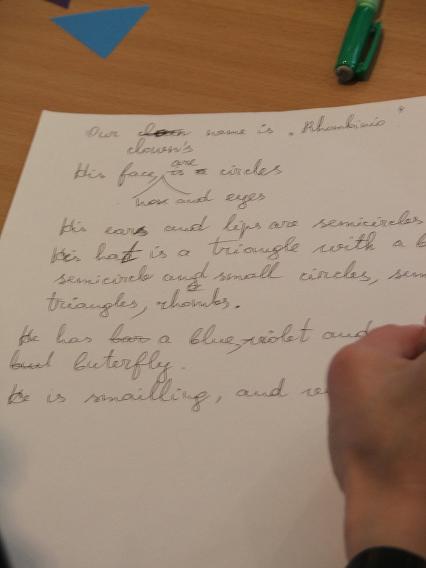 Introduce the terms denoting geometrical figures in a Maths lesson, but using them in speaking in art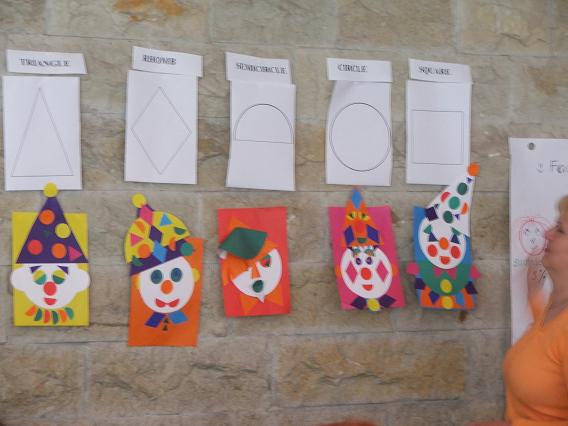 Doing practical work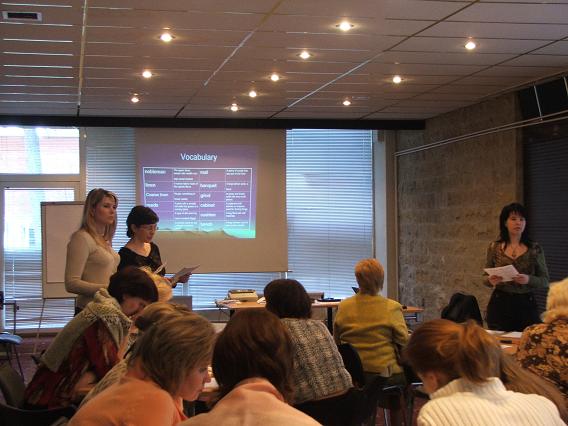 8 History of Ancient  Egypt
Lidija, Iveta, Inga
Aims:
Learn about social ranks of ancient Egypt
Develop reading activities through information transfer
Listening activity, fill in chart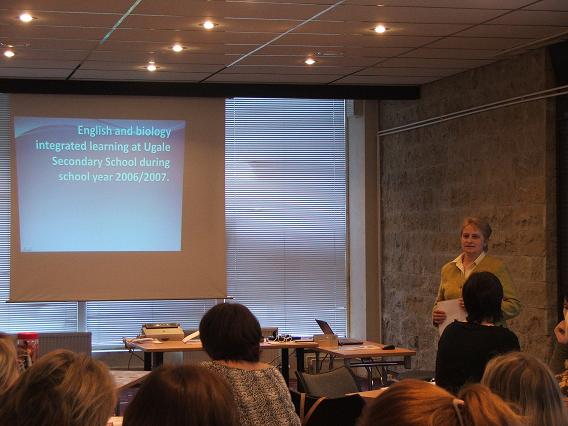 9 Biology and English (research work and global problems)
Anita
A case study of a student projects at Ugale school 
Task: reading and matching connected with global problems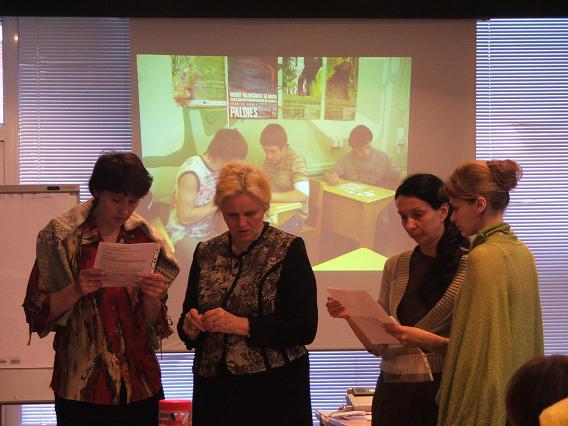 Colleagues looking through Anita's materials...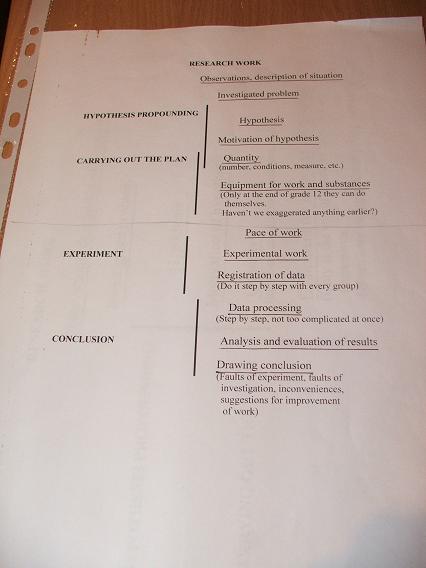 Outline of a research plan
Observation groups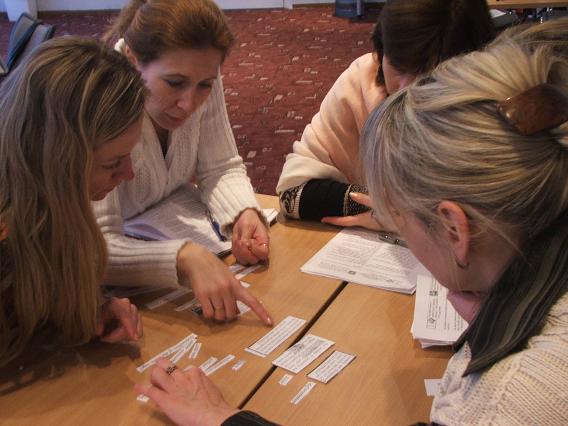 The colleagues were asked to spend the time observing one mini lesson, discussing their observations and then preparing feedback for the teachers they observed.
I didn't get any pictures of this stage as I had plenty of discussing to do myself!
It seemed to work well.  The teachers made good use of the opportunity to reflect on what they observed and also to enable each other as teachers to reflect on their teaching based on their mirroring of the lesson.
Follow up
Inta and colleagues will post to the network of schools around Latvia an advertisement asking for colleagues interested in working on a training programme within the project.  The details of the project and how it will develop are still at their initial stage but there will be a period of training for a small group of trainers from the teachers' group and possibly newcomers to this group from other schools around Latvia.
There will be an initial visit to film CLIL lessons at volunteer schools which will form the basis of a publication as a handbook for CLIL for teachers and schools in Latvia.  The publication will also serve as a basis for future teacher training projects in Latvia.
The project will build on contacts with pre-service teacher education initiatives in Latvia as well as the successful mentoring programme which is already in place.
So, this wasn't really the end of a project but the beginning of a new one! Come back to the Latvia section to see how it grows from here.