Italy - Second CLIL Seminar
The Second Seminar for Content and Language Integrated Learning
LICEO COPERNICO, via Planis 25, Udine, Italy
11-22 OCTOBER 2004  
When the first seminar was held in the charming town of Udine in Northern Italy in 2000 it involved 30 teachers. At this meeting there were more than 250 teachers participating in the two weeks of courses representing:
Physical Education, Political Economy, Law and Economics, Economic Geography, Maths, Business Economics, Italian History, Physics, English, Building Technology, Chemistry, Electrotechnology, Automated Systems, Technology, Design and Electronic design, Philosophy and History, Informatics, Applied Maths, Italian-Latin, Materie letterarie, Philosophy, Drawing and History of Art, Agrarian Science, Biology, Mechanical Technology applied to engines, Electronics laboratory, Information elaboration and transmission systems, Electronics, Industrial automation systems, Dental laboratory, Earth Science, Biotechnology systems, Psychology and Science of Education, Psychology Pedagogy, History and Social Science. There was also a support teacher - History of Art, a boarding school educator and a teacher of Zootechnics.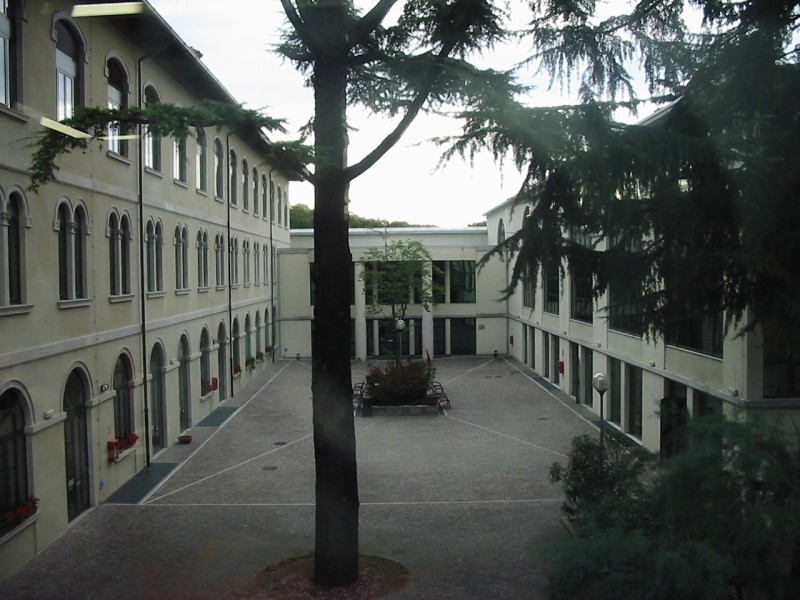 Liceo Scientifico 'Copernico'
Additionally, there were a group of 25 colleagues working as coordinators for their CLIL colleagues in their respective schools.
Our intrepid hostess Elisbetta Bernadini worked wonders in bringing such a broad collection of teachers together, and simply arranging the timetable so that it would work effectively to meet the specific needs of the colleagues. Both John Clegg and I had our work cut out for us to provide for the diversity of teaching context within which these teachers work.
Most of the success of the programme was down to the enthusiasm of the colleagues present and on our part we offered a general structure covering the following areas:
- Analysing teachers' needs
- The Language of Thinking
- Integrating Content and Language - Providing Structure and Support
- Tasks for supporting learners language skills
- Presentations of teacher-prepared tasks
- Observing and describing good practice
- Networking
- Resources/CDs/Websites
- Teacher Talk
- Assessment for CLIL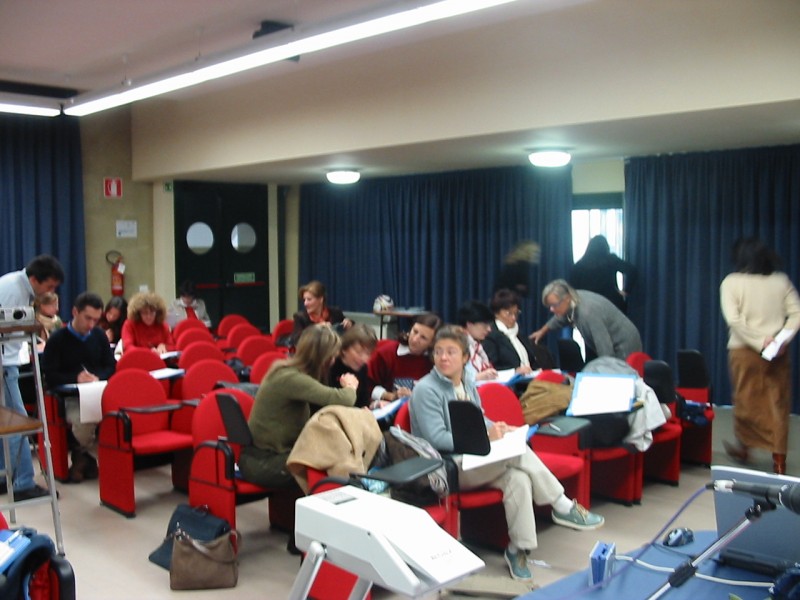 Colleagues trying out a 'running dictation' for CLIL
We spent a lot of time working on 'sharing' and 'networking' and, given the large numbers of teachers, looking at how these colleagues could support each other in their specific subject areas.
All of the colleagues were enthusiastic about joining up to the FACTWorld network (
www.factworld.info
) and yahoogroup. A large proportion of them were keen to investigate what Science Across the World (
www.scienceacross.org
) could offer their English-medium subject teaching.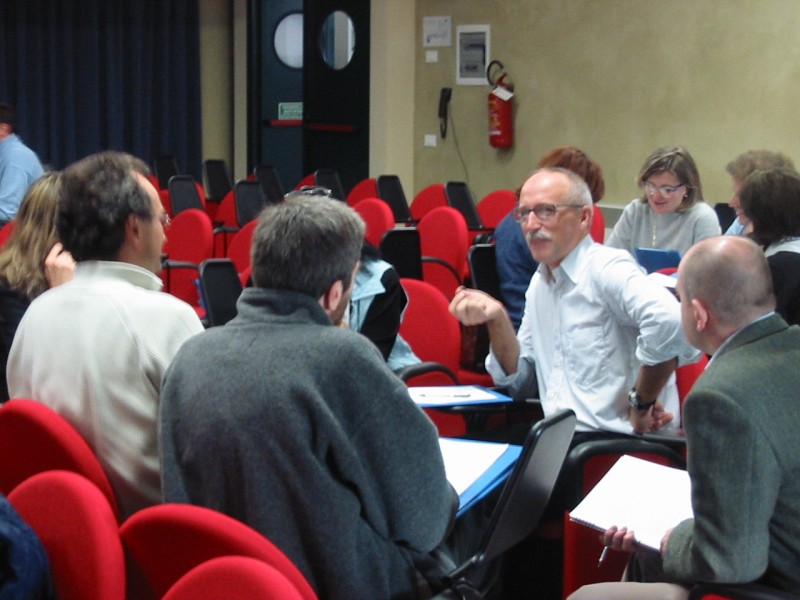 Colleagues discussing 'language support' activities
The teachers were mixed ability in terms of language level, their experience in CLIL and also in terms of their teaching approaches. PE through the medium of English, obviously, represents a totally different context to, say, teaching Latin through the medium of English. These teachers were all in agreement about one thing, and that is the value of teaching some, or all, of their subjects through the medium of English.  
A number of the schools in the network have their own websites with CLIL links and some of the materials from this workshop can be found at the Liceo Copernico website (
http://www.liceocopernico.it/
) in the RETE CLIL link.  
Some of the schools in the network also have CLIL links in their web pages and it's worth the search through the Italian to locate them for the materials available there.  
I.T.I. "A.Malignani" School, Udine
www.malignani.ud.it
The Friuli Venezia Giulia education archive
http://www.regione.fvg.it/rafvg/cms/RAFVG/
I.T.C. "Antonio Zanon" School, Udine
http://www.itzanon.gov.it/
Along with the networks of CLIL teachers in Lombardia and Piemonte I think this must be the largest group of colleagues I have had the pleasure to work with and they have a lot to share and offer other colleagues interested in this area of language education. You can see the full version of this report at the FACTWorld website give above as well as links to some of the materials we shared in the workshops. You might like to join them in FACTWorld at www.yahoogroups.com and hear about their work. Or, you can write to me and I'll let you know how to get involved.