Estonia - CLIL Project Launch
Content and Language Integrated Learning in Estonia – a project launch.
The British Council in Estonia (www.britishcouncil.org/estonia) launched a new project, April 18th 2006, with a focus content and language integrated learning at their offices in the heart of the old town of Tallinn. 
Project manager Kaarin Truus invited teachers from around Estonia to a one-day information and awareness raising workshop on CLIL and colleagues participated from schools in Tallinn and Tartu looking into opportunities for developing CLIL projects in their home contexts.
Colleagues were presented with an introduction to CLIL and issues for consideration in getting started covering materials provision, teacher and learner language levels, school issues, training and others.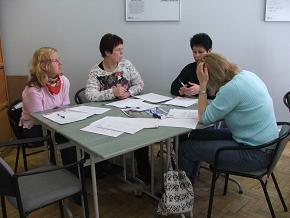 The second half of the workshop was dedicated to providing language support in foreign language content teaching including dealing with new terminology, developing listening and speaking skills and investigating language within content specific texts.  
The three-hour workshop offered an insight into successes and challenges in a number of CLIL contexts around Europe and elsewhere including the Basque Country, Germany, Italy as well as Lithuania where a project has been under way for the past three years.  
The meeting ended with a brainstorming session on what follow-up meetings should provide teachers and the results included:
- Exercises and themes from Science (other subjects) showing how to they can be applied at different levels
- Experiences in other countries (How to start, what to start with)
- Sharing colleagues' materials and ideas
- Experience different methods for 'active learning'
- Evenings (depending on time) – how to prepare a topic
- Social programme
- How far we have got (presentations from colleagues)
- Materials writing
- Planning, collaboration and networking  
The afternoon saw the group move to the English College in Tallinn for an observed lesson on Genetics which colleague Anu Parks, thanks for having us, began with the production of concept maps outlining core noun and verb phrases from the topic and which continued with a debate on the issues related to genetic science. The whole lesson was filmed and the students, Form 11, coped very well with the 15 teachers sitting at the back, being filmed, not to mention the marvellous way they performed in English.
Tallinn English College
www.tik.edu.ee
Day two of the visit involved a round table discussion with a small 'task force', which I helped to facilitate, dedicated to discussing and planning for the future growth of the CLIL project in Estonia.
Outcomes from the meeting, in brief, had three core strands. The group concluded that follow-up should involve awareness-raising among educational management within Estonia. It was also agreed that there was a need for some form of progression of teacher development which would revolve around a partner scheme between schools already established in using English as a medium for instruction and other schools with the view that it would be more democratic, it would encourage networking and sharing among teachers and it would also offer the CLIL project the challenge to show that it actually can work in the mainstream of education in Estonia. Parallel to these strands there should be an ongoing process of needs analysis and materials development within partnership schools to outline a foundation for development as well as a means for achieving objectives targeted.
The British Council is looking initially at seeing what they can set in motion during this financial year and in involving strategic partners and raising awareness among managers in education in Estonia, as well as identifying and consolidating a task force working on the project, there will be a strong foundation for the sustainability of the project beyond 2006-7.
The Baltics as a region is developing content and language integration and it should be a very interesting place to keep an eye on for the rest of us. The real challenge here for colleagues in the long term will be to get CLIL on the agenda institutionally and into pre-service educational programmes, to get these courses recognised and certified, so that there will be new generations of teachers coming out of the universities and pedagogy training institutions and into schools equipped to deal with teaching their subjects in a foreign language.