Argentina - DNA 50 Buenos Aires
Celebrating DNA 50 in Argentina, June 2004
I'm about to leave Buenos Aires after a week of celebrating the DNA 50 with the British Council in Argentina (www.britishcouncil.org.ar).
I believe it's the last in a long series of British Council DNA 50 events all over the world.
Children have been building strands of DNA from sweets in Malaysia, South Africa, Taiwan and Siberia among other fantastic places, and the last event looks like it's here in Buenos Aires! What a finale!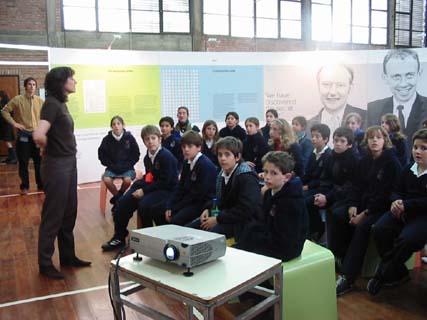 Mary opens the workshops…
The week started with a couple of hours rest from getting off the plane to going to the Saint Andrew's School where the week's events were to be hosted and starting the first genetics workshop for 11-12 year olds. Each day was filled with all manner of DNA and ELT related activities. Tom Bradley, a teaching assistant and biologist working in Cordoba, showed groups around the exhibition and Joaquin Fargas and team from the Exploratorio hands-on science museum in Buenos Aires (www.exploratorio.com) ran DNA extraction activities.  
Meanwhile, students came to work with me on Science Across the World's pack of activities Talking about Genetics around the World (
www.scienceacross.org
).
We looked at media representation of genetics issues and children were asked to consider and express their own understanding of genetics.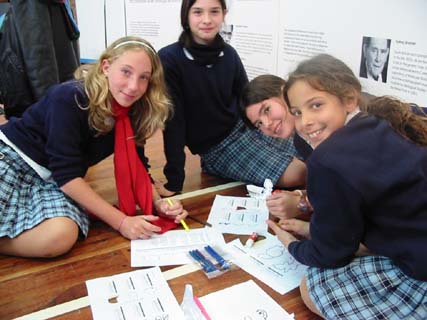 Children working on DNA cartoons…
We set about creating cartoon faces by mixing face parts and genetic code and children were offered prizes given by the British Council for the best creation and its presentation to the class. This activity is from materials available, as well as many, many others, at the Biology and Biotechnology Research Council website (www.bbsrc.ac.uk). These DNA faces became an exhibition within the exhibition as the week went on. It was great to have children working on this theme with the exhibition as a backdrop. Crick and Watson watched on as children put their genetically modified creations together.
We also looked at variation in each group. The children had to investigate similarity and difference in their own class and record their findings. Hair, and eye colour were researched as well as ear lobes, middle finger hair, and tongue rolling. Lastly, students counted taste buds to identify any Supertasters in their class.
When we had time, we also did DNA origami. I picked this up from a colleague from Austria (www.dialog-gentechnik.at) and the activity is useful for the language of instructions as well as providing a great visual for looking at the structure of DNA.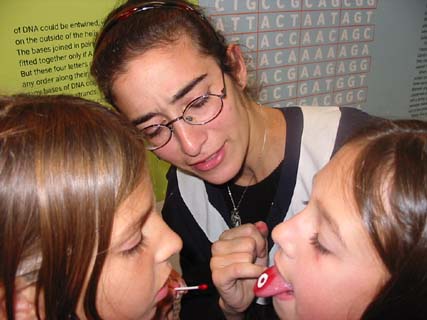 Variation in the group… Supertasters…
There was also a workshop offered for colleagues from bilingual schools in Buenos Aires where we presented the programme and outcomes of the Teaching Science through English seminar that was run by British Council Seminars in Sheffield in February this year.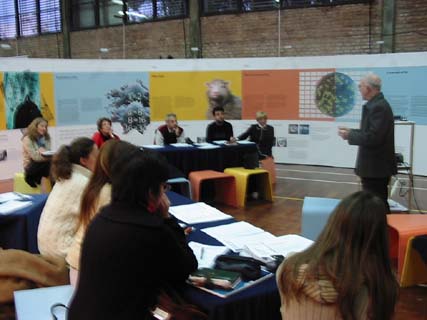 Joaquin discusses Science around the world…
Virginia Petrella, a bilingual teacher of science in Buenos Aires, and Joaquin were both at this event and presented both personal and local perspectives on the success of the seminar. Monica Tosi also presented a local perspective on her work with the Science Across the World programme in Argentina including Science Across workshops she has run and the Eating and Drinking exchange she is doing with her students at the T S Eliot School in Buenos Aires. All of the teachers present, as well as those accompanying children to the workshops were offered free subscription to the Science Across the World programme of exchanges.  
Nobel Prize winner Sir John Sulston wowed the student population of the audiences, in fact he wowed everybody, who came to listen to his talk and put questions to him on a variety of issues related to genetics. The week was closed by Paul Dick, Director British Council Argentina.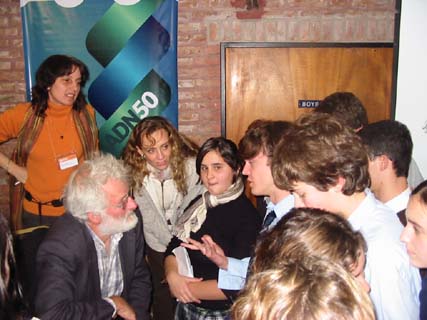 Sulston talks with the students…
It was a great week and one which has already laid foundations for future activities. Young Ambassadors of Chemistry will come to Buenos Aires, in the near future. Monica, Joaquin and Virginia are a team looking into broadening their work together and this will include expanding Science Across the World in South America. There's also talk of Exploring the Solar System, Climate Change…
A great week! Many thanks to all who made it a success, especially Mary Godward of the British Council and Fabien from the host school.