Bulgaria - Chemistry as a Cultural Enterprise Gorna Malina
The International Year of Chemistry 2011
Global Stamp Competition: Chemistry as a Cultural Enterprise
Prize giving and celebration of winner of 12-14 age group: Vasilena Vasileva, Gorna Malina, Bulgaria
Nov 8th, 2011
It happens once in a while that you get to participate in a truly splendid educational moment. This is one for me. The whole of this event was about celebrating achievement in young people, applauding their efforts, and, well, having a bit of a party at the same time.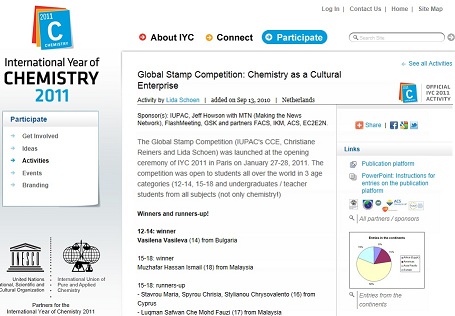 IYC Website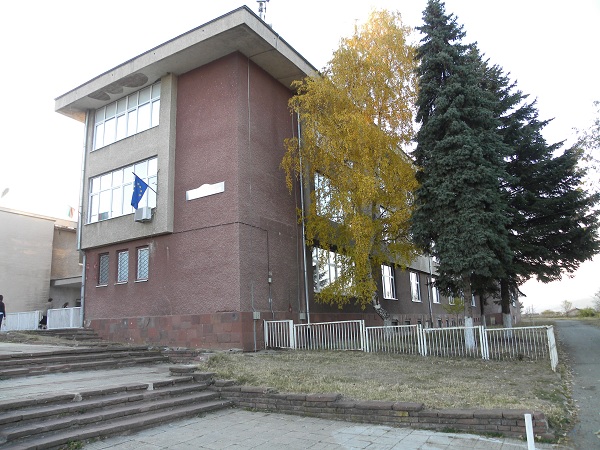 Hristo Botev School, Gorna Malina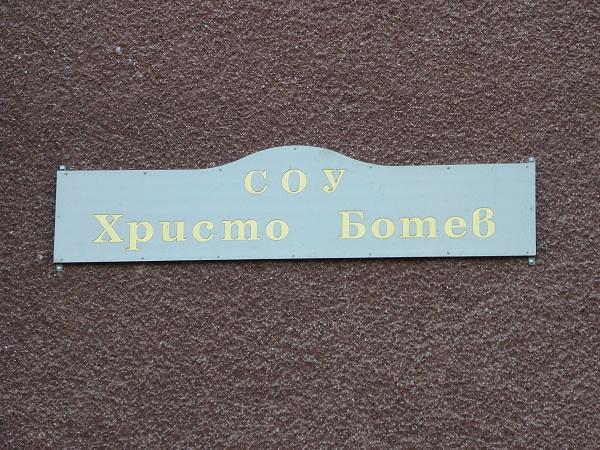 Hristo Botev School Celebration 
Gorna Malina, Nov 8th, 2011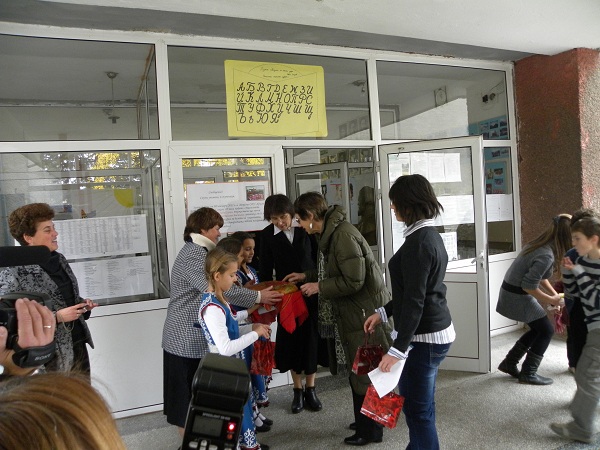 Lida is welcomed and treated with traditional banitsa and chubritsa.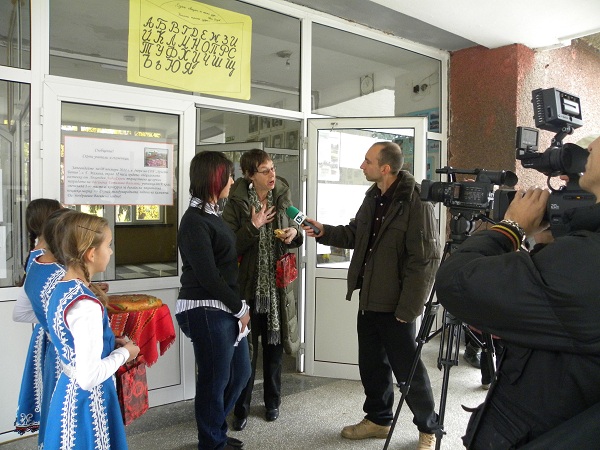 BTV were there and interviewed Lida about the event, the prize and how Vasi's design was chosen. In fact, there were around 250 entries to the competition from 18 different countries, and the jury consisted of IUPAC members from around the world who had a difficult job to choose the winners.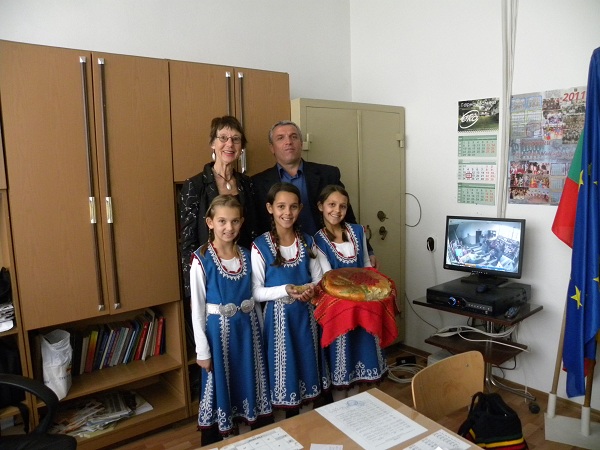 We were welcomed with singing and dancing...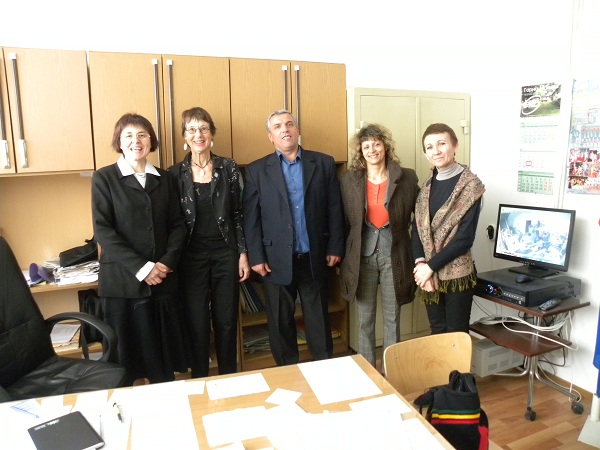 Greeted by the headmaster of the school, Kirilka (Vasi's English teacher), the inspector of chemistry as well as a representative from the Ministry of Education.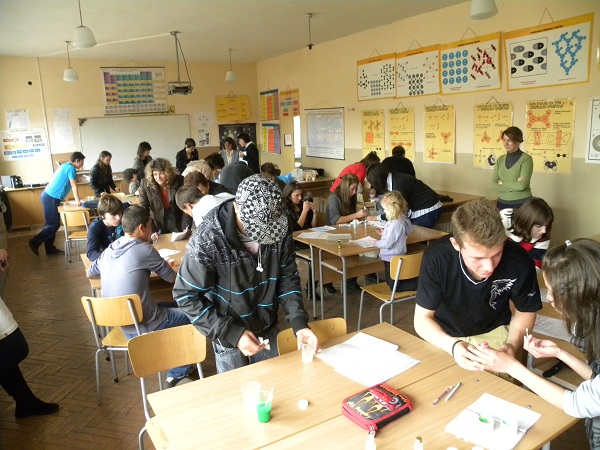 A familiar and wonderful sight in IUPAC activities, namely a busy productive classroom. The aim of the cosmetics workshop is to get students producing a range of three cosmetics products in their small groups. They have to produce shampoo, hair gel and face cream by following simple instructions. They also have to brand their products and think of a marketing campaign to 'sell' them. In the end the best design, the best chemistry, and the best sales pitch wins the prizes.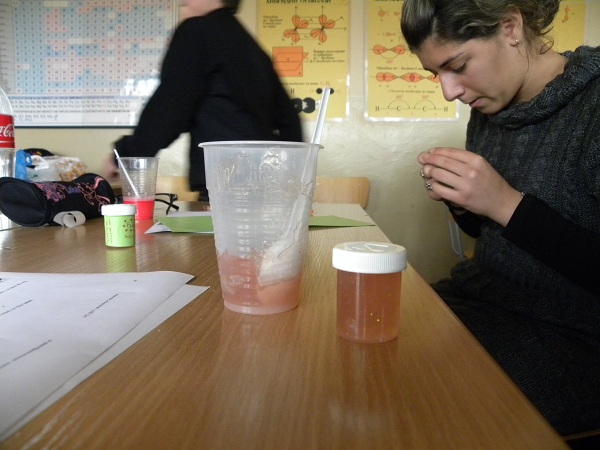 There have been a good many YAC events around the world. Lida and I took the programme to Argentina, to Russia, to South Africa, to Taiwan, to Korea and to Malaysia. Beyond our original project, the workshop went to many other locations around the world, always with the same aim: to get young people communicating about chemistry and explaining what they were doing to the passing public, explaining their enthusiasm for science to whoever is listening.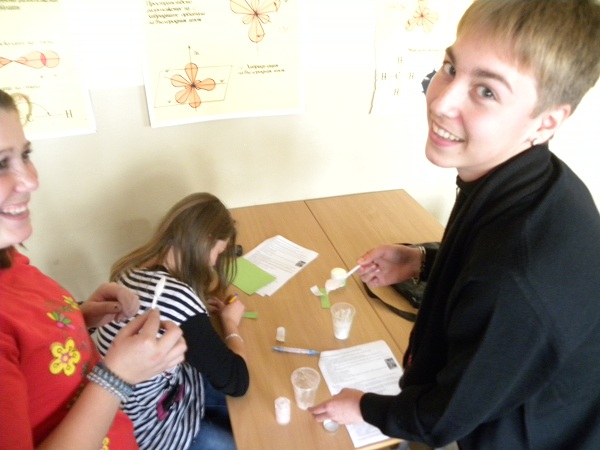 It was with this same spirit of enjoyment of science that we met in Gorna Malina, and I must say, it is worth all the effort which goes into the preparation, the time, and the getting there ! just to see the fun in the faces of the young people involved.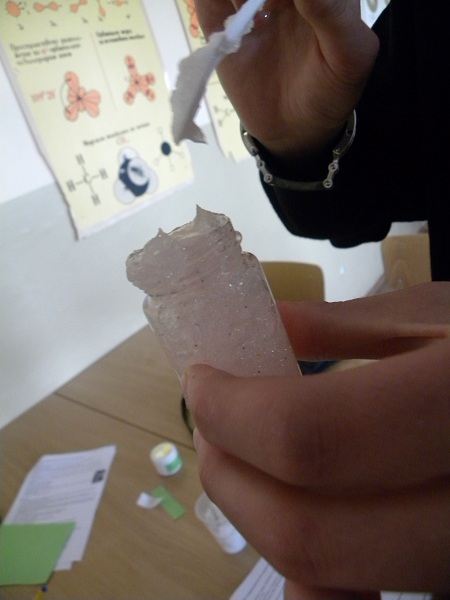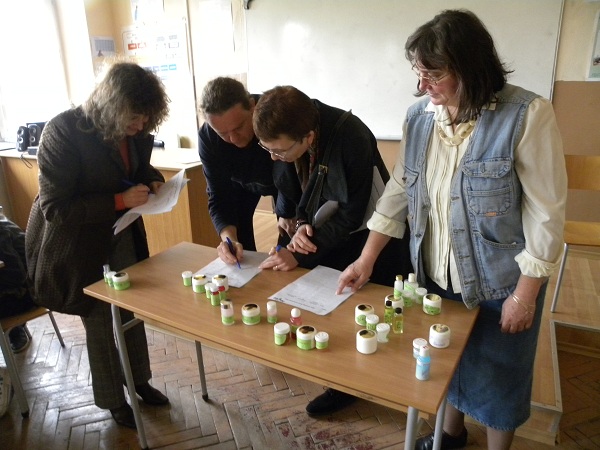 Jury choosing the winners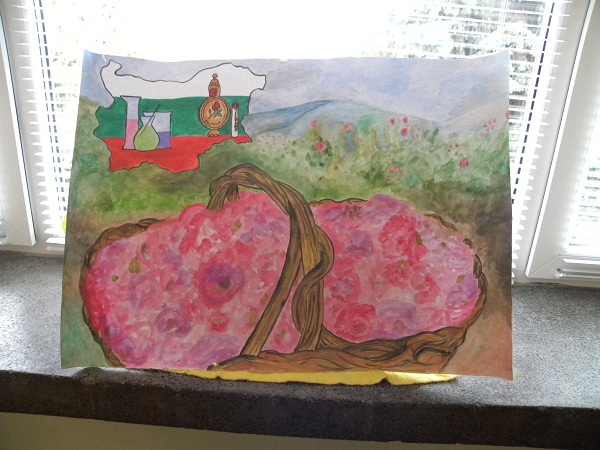 Vasi's original art work which was to become the basis for the stamp design.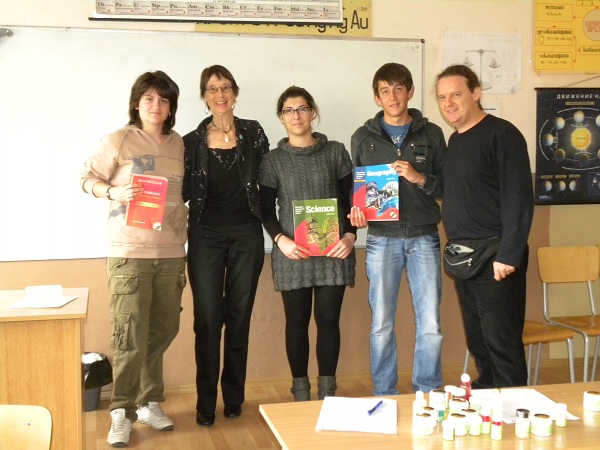 Cosmetics winners!!!!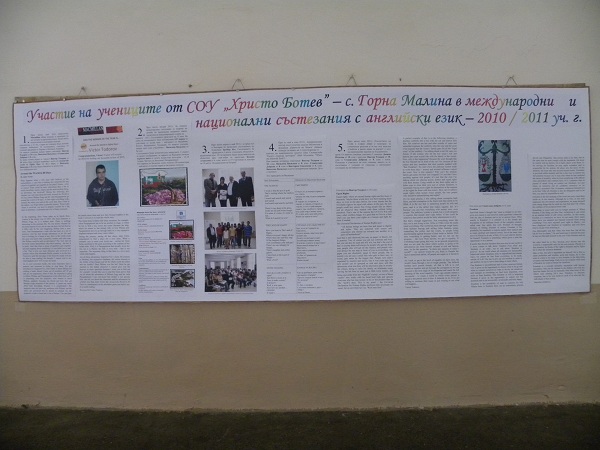 It turned out that Kirilka is a busy teacher, getting her students involved in no less than 5 international competitions throughout the year!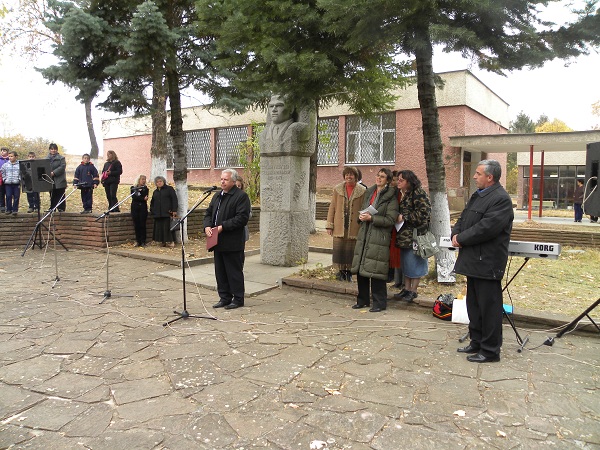 The mayor of Gorna Malina giving his address.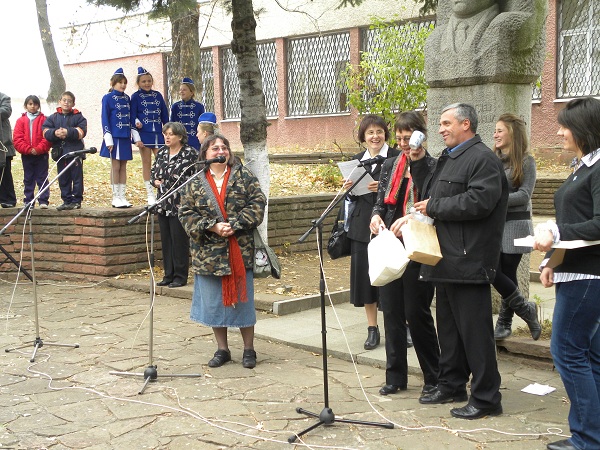 School headteacher receiving his Dutch present from Lida, 'I'll use it for tea', he says.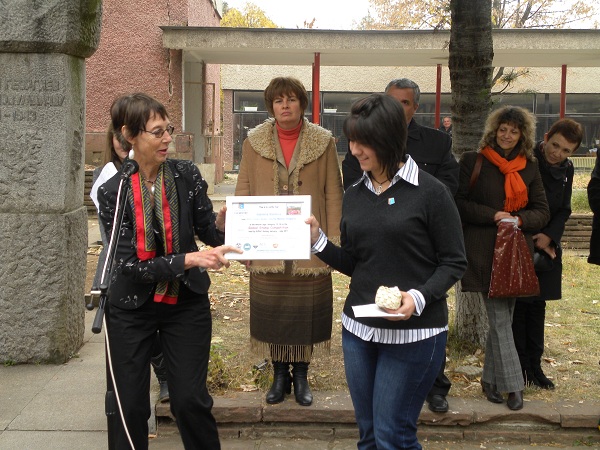 Vasi receives her official award and cash prize, well done Vasi!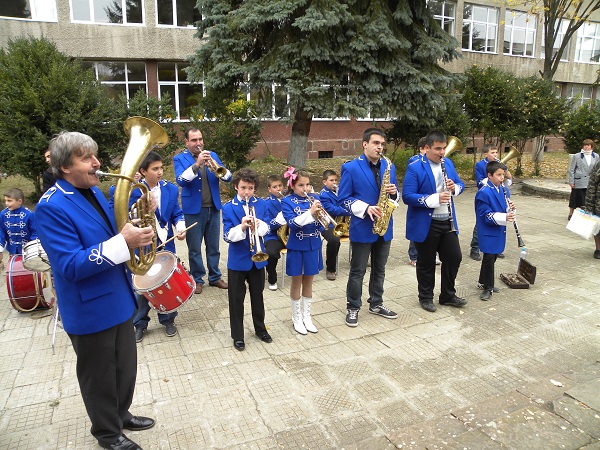 School band plays us into celebrations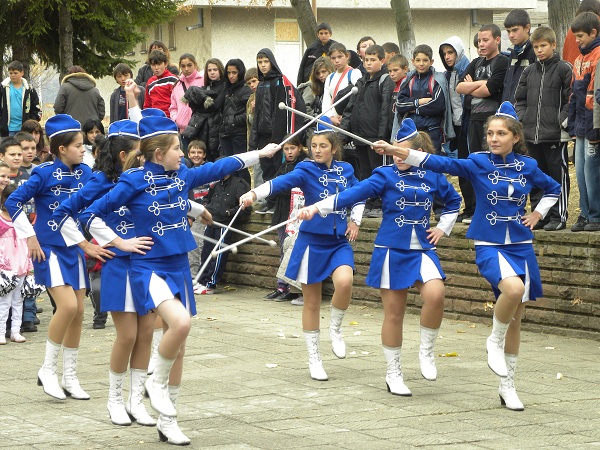 School dancers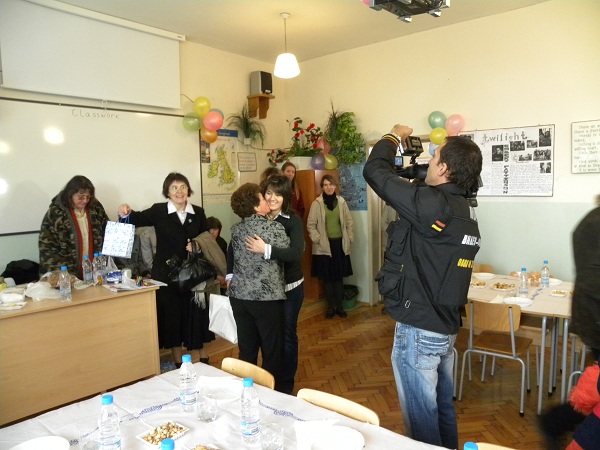 Celebrations continue inside
There was so much more than just the events you can see in the photos above. It's enough to say that 'we celebrated science' in the best way possible, and that was by getting young people enthusiastic about it, by getting them 'doing' it and talking about it, and by raising their curiosity about what application there may be to the chemistry they are learning in their lessons every day.
Let me make an invitation to anyone reading this who thinks that their students might like to be involved in a similar event. 
What are you waiting for? 
Get in touch! 
Let's do it!