Estonia - CLIL Fusion 2008
A personal perspective on the CLIL conference in Tallinn, Estonia October 24th-25th, 2008
The conference began on Friday morning and the first impression I had was the wonderful networking opportunity it provided.
During registration and coffee I met with Sandra Lucietto from Italy, Rosa Aliaga from the Basque country, Do Coyle from the UK, Alexandra Zaparucha had a poster presentation about her work in Poland as well as a new book coming out soon on Geography teaching in Poland through the medium of English.
You can find out more at
www.herodot.net
.
I also talked with colleagues from Italy about a potential visit there in March 2008, two colleagues in Trento, another from Sardignia and we all talked about the upcoming CLIL conference in Milan in March 2008.
I travelled to the conference with the team from Macmillan with local rep Finn Kirkland and as we arrived they went off to the Macmillan stand.  I arrived a little later to find that they had a large amount of material for the CLIL products Macmillan offer including the VPS series for Science and a sample for the new Geography VPS book and CD as well as information about the onestopclil website and Uncovering CLIL book.
When the conference started, David Marsh and Peter Mehisto introducing the theme of 'fusion'.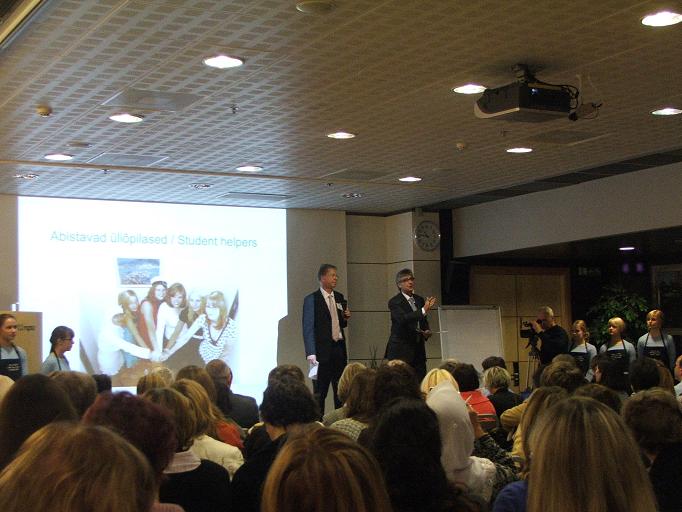 Peeter Mehisto and David Marsh get the show on the road
Hugo Baetens Beardsmore presented research results from around Europe which put CLIL students a tad ahead of the rest.
We also had a video welcome note from the Estonian Minister of Education.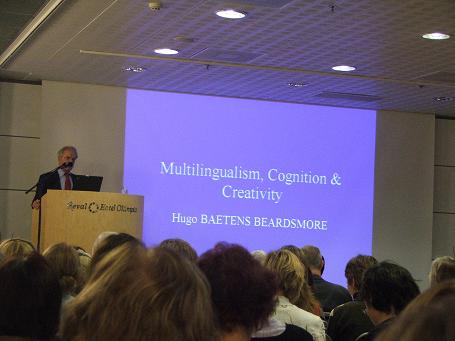 Hugo Baetens Beardsmore
Fred Genesee talked about lessons from 40 years of immersion experience in Canada.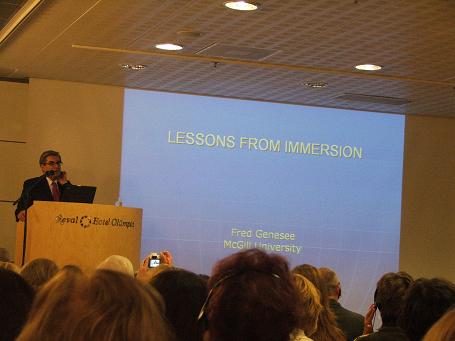 Fred Genesee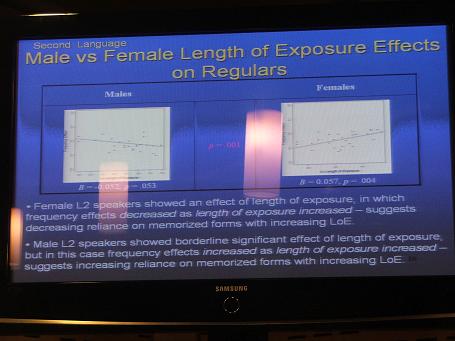 Michael Ullman – Presented as a scientist about the brain and second language learning. I was sure that what I was listening to was important, but am afraid it went straight over my head so I'll never know.
Declarative and procedural memory systems, they interact, but are very different (quick v long term)  
Had lunch with Macmillan colleagues and discussed the onestopclil system. Now it's up and running, it'll speed up, accumulate more and more and get better and better.
Sessions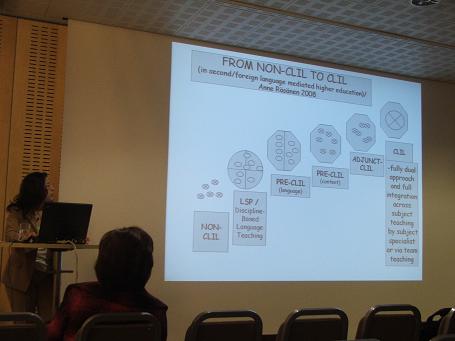 1. The first session I attended was a presentation by Antroulla Papakyriakou. She spoke about CLIL at University level in Nicosia, 'Adjunct CLIL' she called it.These talks were all 20 mins short. Chaired by Phil Ball.
2. Penelope Robinson spoke about a TESOL prog for young learners at Leeds University, talked about EAL in the UK, said she is interested in trying to find out what is distinctive about CLIL methodology, what in practice it actually means, and whether or not there could be more integration of the content and the language.Some points I noted of interest: 
- 20% of learners in mainstream schools are speakers of EAL.
- Penelope used the acronym 'CLBT' content and language based teaching to refer to CLIL.
- Penelope's observations based on visits to schools in 6 countries in Europe (she didn't say which):
Teaching:
Integration is not planned
Focus is on subject learning
Learning:
Learning of language incidental
BICS but not CALP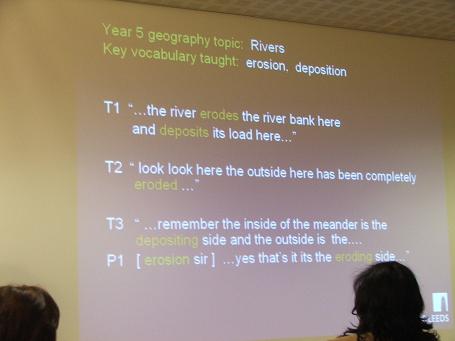 - Conclusion that focus on language is a good thing, that it is essential and that CLIL can learn from EAL methodology in the UK in this respect.
If anybody wants to find out more about Penelope's work, they can contact her at:
p.j.robinson@education.leeds.ac.uk
3. Alexandra Zaparucha spoke about teaching geography through english in Poland. There is clearly masses of interesting things going on in CLIL geography in Poland, keep an eye on this!  It's the real thing! Ola, as she is known, is both an English teacher, a geography teacher, and also a teacher of geography through English – worth her weight in gold for CLIL, lucky Poland!
Ola started doing projects in English first of all, but quickly saw opportunities for transfer of skills, language and content across the curriculum.
You can find a lot about her work and the work of other geographers in Poland as well as information about books they have written at
www.clilpoland.eu

Ola concluded with the story of how parents were initially confused as to why their children would be doing presentations work in their classes in Geography in English, why they weren't taking notes from lessons given by Ola. Ola asked how many of the parents would be happy to get up and stand and talk in front of the group in a foreign language.  No hands were raised. Case closed.
Anybody wanting to contact Ola can do so at:
clilpoland@clilpoland.eu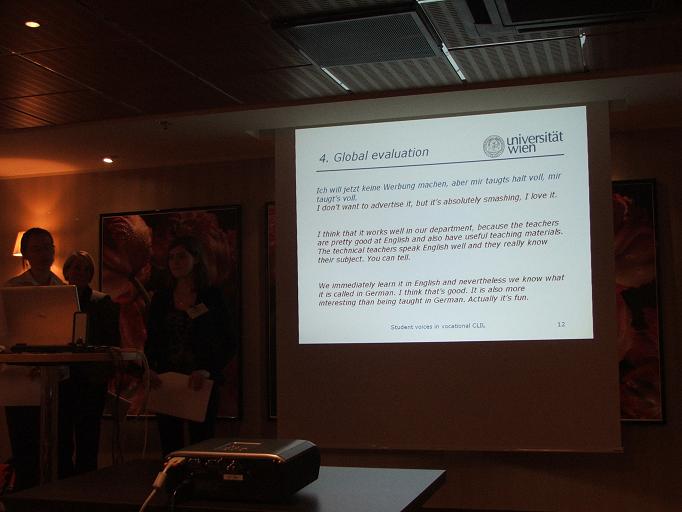 4. Eva Poisel and John Feltham then talked about 'Unleashing learner's potential in CLIL', but I then moved focus group and went to see a presentation by a group of colleagues from Austria… which actually asked students what they thought about doing their studies through the medium of English as a foreign language. In the corridor I met Francesca Vidal from Barcelona (
fvidal@xtec.cat
) who told me off for not ever coming to work with them on their CLIL projects in Catalonia. Sorry Francesca, ask me once more, I promise I'll come!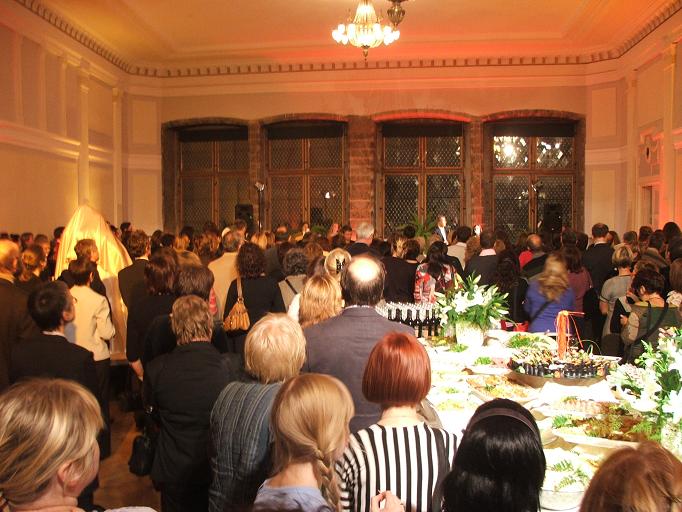 Friday night was reception at a reception house in the old town of Tallinn. Dancing, music, food, awards.
Saturday, 25th Oct
I went to see Inma Munoa Barredo present on the Basque Ikastolas schools' network and discuss the challenge of identifying the language learners need to support their learning of content subjects.  The materials and issues presented and discussed were spot on, colleagues in the Ikastolas network are digging in the right places, and you can tell from the results they get (
imunoa@gie.ikastola.net
).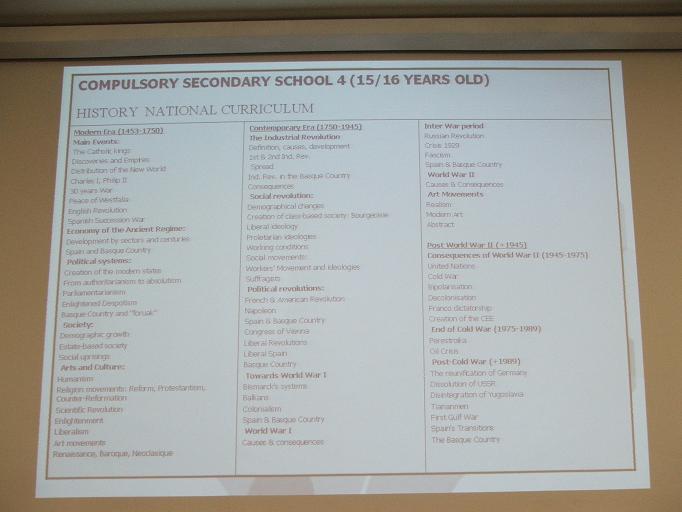 My presentation was
Perspectives on the language of content and even though it was misprinted in the programme, we had a full room.
I looked at subject-specific content language, general academic language, and peripheral classroom language.
Macmillan contributed a free copy of the Science VPS which went to one of the colleagues in the room at the end of the presentation.
I met two colleagues from Spain, Asturias and Balearic Islands and we talked of a possible visit in February or March 2009. I can feel myself drawn to Spain!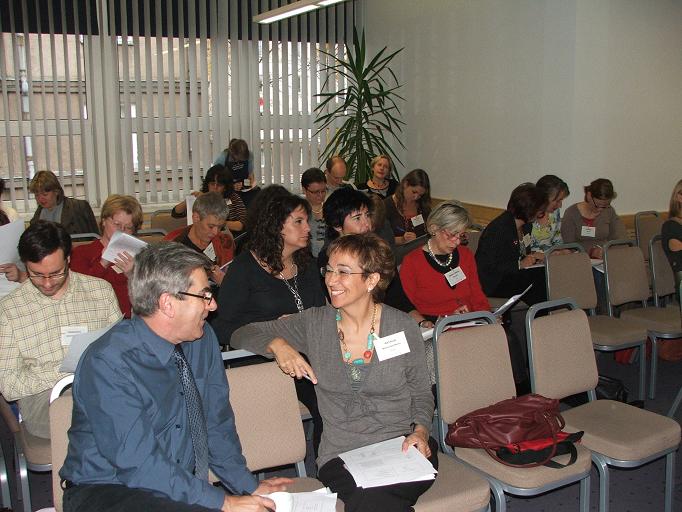 I think this is one of the best, if not the best CLIL conference I've had the joy to attend. I'm only sorry I couldn't clone myself so that I could visit the other ten things going on at the same time as the session I was watching. Bravo to the organizers, hope you can do it again soon!