Bulgaria - PhotoEnglish
Learning Photography in English
Along with my friend and colleague, Keith Halstead, we've put together a course of photography in English starting in September 2015.
Anglia School works mainly with very young children, aged 2 to 10 and we do it well. The young learners groups are largely full and we've been oversubscribed for our summer programme too. So, what's the magic ingredient?
Lora was 4 years old when I popped in to her group, and she'd been with us for several months already. It was an afternoon group and my jaw dropped as I heard Lora say to me 'Keith, give me that felt tip pen please', quite spontaneously. It's quite unlikely that anyone had taught Lora this sentence, what she had done was to pick up this language from the rich language and activity environment that she'd been learning in.
This 'learning English while doing something else' is the magic ingredient we have at Anglia School that makes language learning for the children that come to us so easy. With PhotoEnglish what we wanted to do was take this magic ingredient and offer it to adults.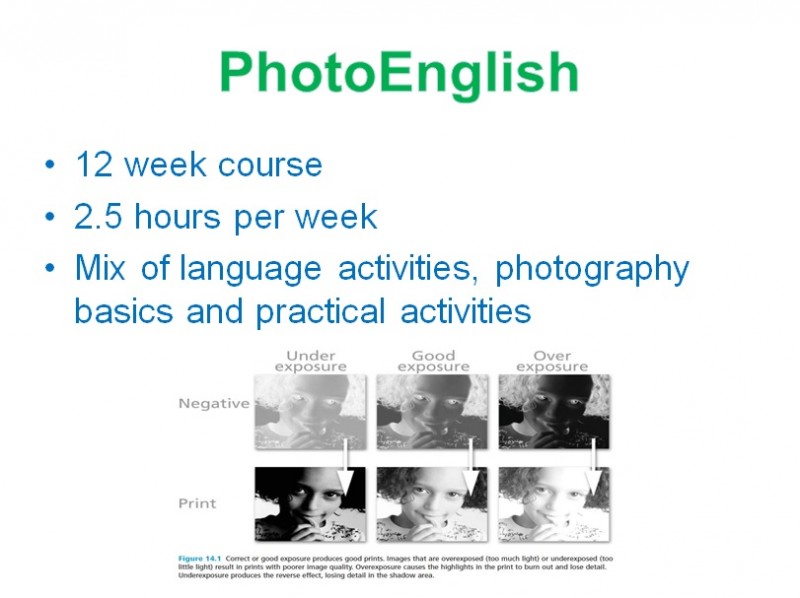 You can download the slides for a closer look at the content by clicking at the link in the image above.
PhotoEnglish is a 12-week course of 2.5 hours per week. Classes are mostly evenings from 5.30 to 8pm but there are 3 weekend meetings during the course which take participants out of the classroom to make use of the natural light of day for making photos. The course costs 300lv.
The focus in the classroom is shared learning. While we do specific a minimum level of English at intermediate level in order that all participants are able to follow the classroom language and language of the teacher, we don't specific any photography knowledge level or requirement. This means that the participants will learn from each other both in terms of language and content.
We use a communicative methodology incorporating the four language skills (listening, reading, writing, speaking) equally, and with a strong focus on vocabulary development.
In terms of listening, we've put together a collection of video tutorials for participants to watch and listen to and develop their own listening skills. There will also be plenty of 'live' listening with other participants and with the teachers.
Reading texts are authentic and are integrated with practical activities, so that there is always a 'read to do' dimension to the reading.
Speaking activities are largely interactive speaking tasks in pairs, small groups or as a whole class. Participants will be given a lot of opportunity to engage with other participants in English, searching for information they need, for example, in order to be able to carry out a task. Speaking also develops through the many presentation activities participants are asked to carry out. Participants will be asked to give presentations of their work in each class.
Writing activities develop alongside the presentation work and builds on the many descriptive texts the participants meet during the course.
The course will include field trips where participants go out into Plovdiv city to make photographs in the beautiful settings the city has to offer and also to make the most of natural daylight for the purpose of doing great photography.
The course will close with an open exhibition and sale of participants' photography with the objective of raising funds for a local charity Parallel World.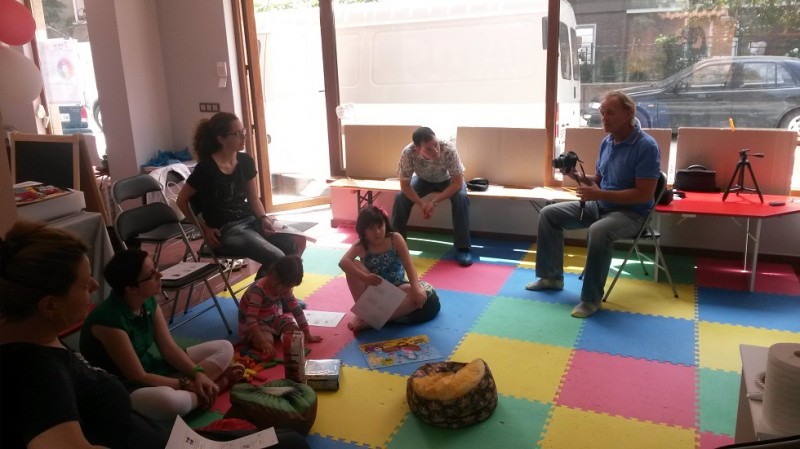 We had an open event for information on the course at our venue at 35 Dobri Voinikov Street.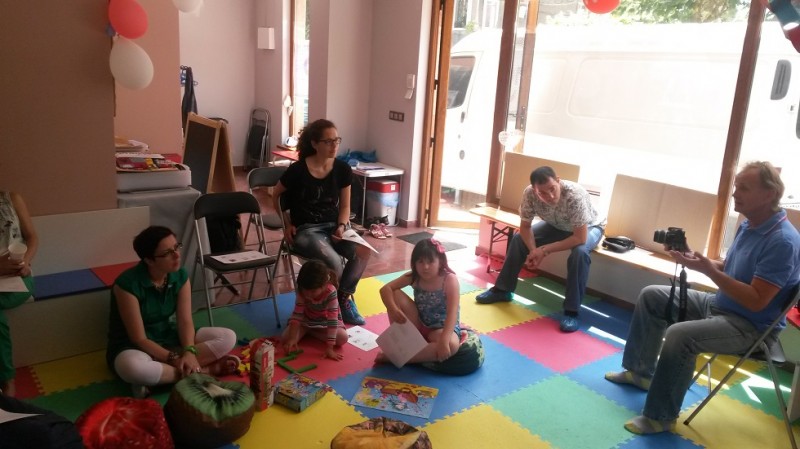 Keith explains the practical aspect of the course and how this aids language learning.
I'm including the registration form here below for download. It should be forwarded to 
info@anglia-school.info
. We'll get right back in touch when we receive it.