Spain - Bilingual Conference, Bilbao
Bilingual Conference, Bilbao, Spain
29th, January, 2009
I was very privileged to be asked to delivery a plenary talk at a bilingual conference organised by the
Gaztelueta Foundation
in the Basque Country in Spain.
The conference brought together approximately 200 educators from all over Spain to the Congress Hall in Bilbao for one day to discuss issues to do with multilingualism in a part of the world with a lot of experience of its own in this area!
I have to say a special thanks to the conference organizers for their care and attention.  It was a pleasure from start to finish.  We had everything to hand for the duration of the event and of course there was the famous hospitality as well!  I should also congratulations.  The programme was very impressive, filled to the brim with presentations, talks and discussion both specific to the Basque Country but also bringing in expertise from elsewhere.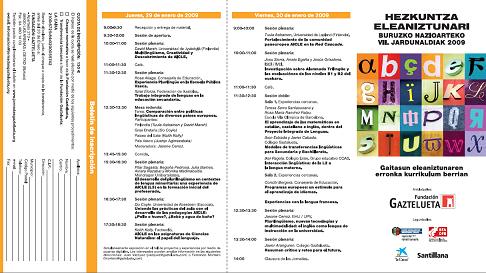 Flier from the conference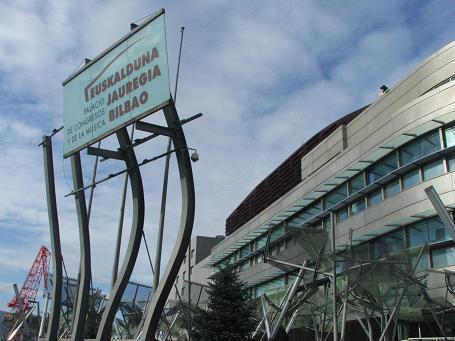 Congress Hall, Bilbao, example of renaissance architecture in Bilbao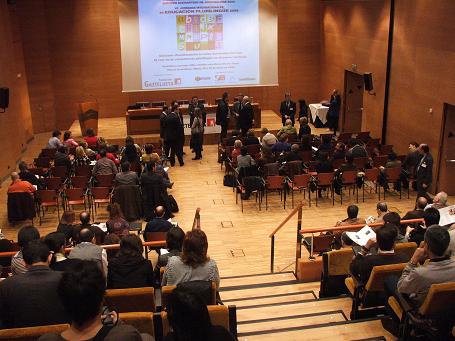 The conference hall filling up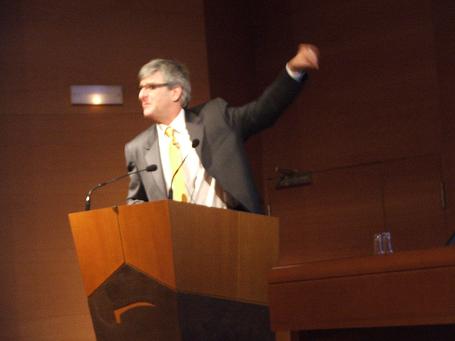 David Marsh spoke about foreign language competences and the way ahead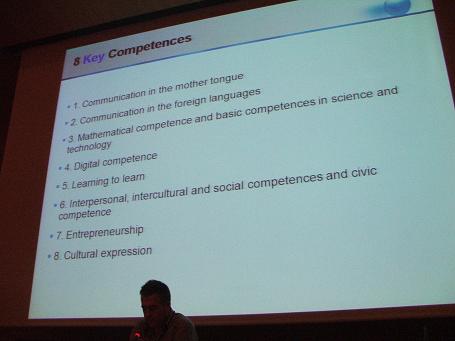 Rosa Aliaga gave
a history of the trilingual project
in the Basque Country: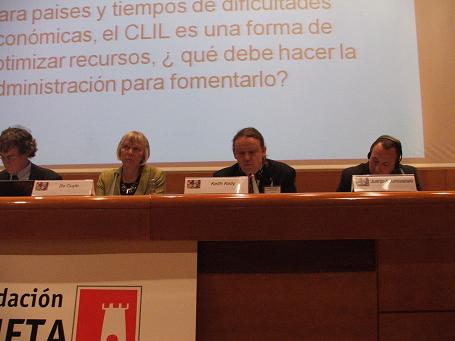 The panel was set questions and interacted with the audience.
I was asked: For countries in difficult economic times, CLIL is a way to optimize resources, what does the government have to do to promote, foster it?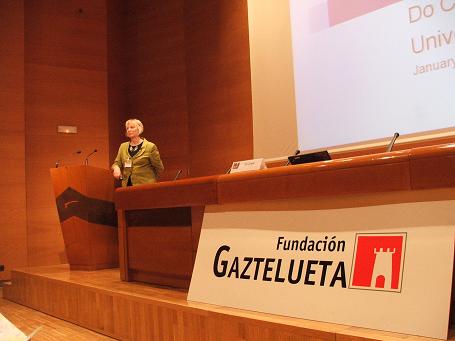 Do Coyle spoke about latest developments in methodology and training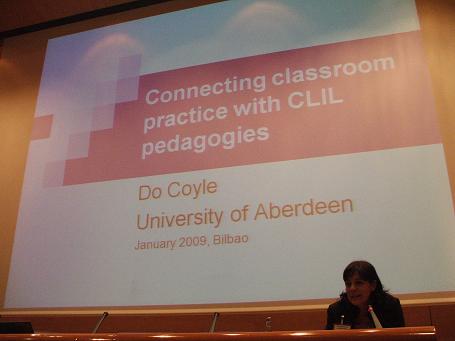 and focused specifically on how to bring ideas and theories into classroom practice.
You have to start with a vision!
Title - CLIL in Natural Science Subjects: the role of language
Abstract - This presentation aims to set out clear parameters for identifying the language of natural Science subjects.  The presentation also then goes on to present instruments for developing this language in the classroom. 
There are a number of ways of looking at language within specific Science subjects.  We can look at the subject-specific language itself which makes up much of the content curriculum of a subject-specific topic area like 'cells and tissues' in Biology.  We can investigate the general academic discourse of the topic which interests us and see how it is used in class.  Lastly, we can examine the role of the non-academic language of the classroom.  All of these perspectives make up the complete picture of the discourse of the language of a Science subject.  Knowing what language is used in these dimensions can help us plan for the development of this language both in the input and in the output of the content of the subject.  This presentation will present ways and means of identifying and organizing the language of Science from these three perspectives.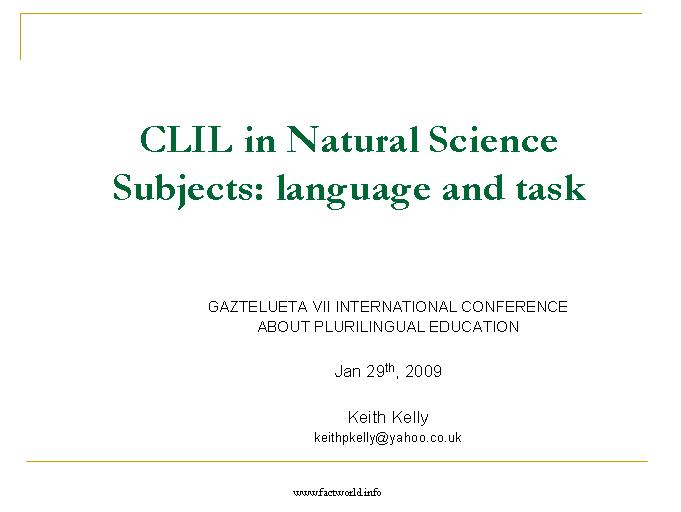 Another area of particular interest in integrating content and language in Science education is that of tasks.  There are two main areas we need to examine: firstly, we need to look at how learners are guided in processing input language in Science.  This means how learners are supported in their reading of Science text, and how they are guided in listening to Science language.  The second area is to do with output.  Students may need considerable support in producing the language of the Science subject through writing and speaking.  CLIL practitioners need to know how to provide this support.  This presentation will offer guidelines and examples for materials and task design for Natural Science Education through the medium of a foreign language.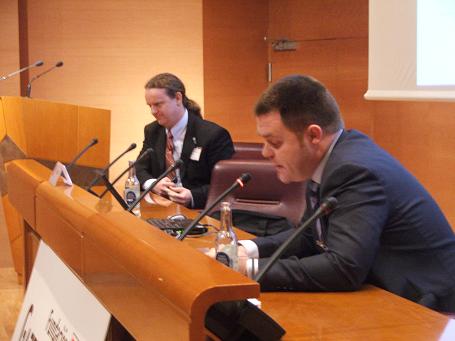 Introduction to my talk, you can see the title and abstract. 
If you'd like to know more, get in touch (
keithpkelly@yahoo.co.uk
)
I basically talked about what the language is within natural science subjects and how it can be embedded in content tasks.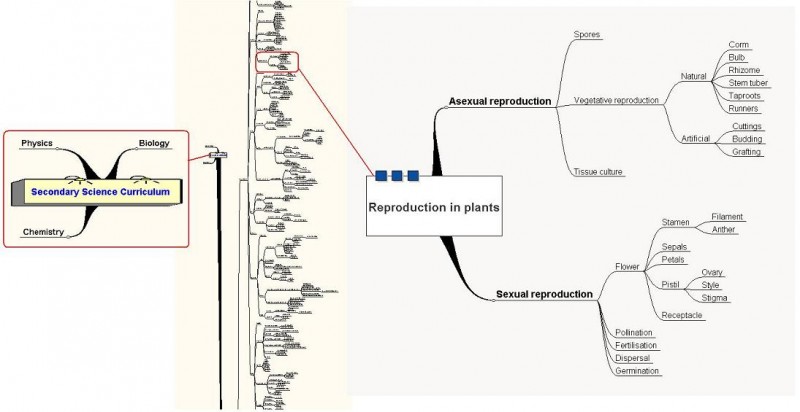 Can we plot and map all the key vocabulary in content subjects?  I think so.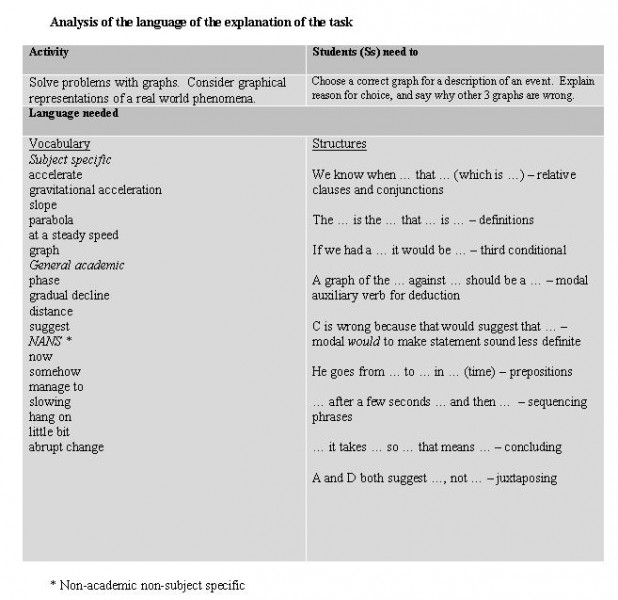 Language for talking about graphs showing free fall and acceleration.
Can we identify and categorize key structures beyond vocabulary in content subjects and make it accessible to learners to help them carry out the tasks?  I think so.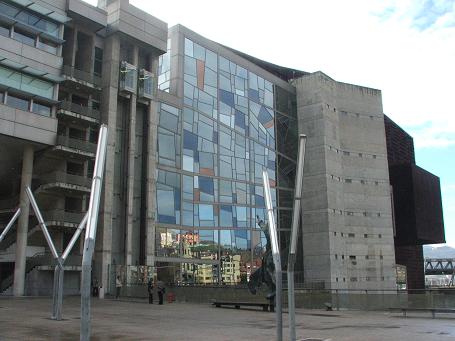 The rear of the Congress Hall, just as impressive as the front.
Well looked after, intellectually stimulated, good food, great company.
Just hope they ask me back again!