Austria - SprachenForum5
SprachenForum5 - CLIL in Austria 
I participated in a live discussion on CLIL in Austria recently and I promised to follow up with a few things for the teachers who participated.  
This short report is my fulfilling that promise and one document you can find at the foot of the page is a list of sites and networks several colleagues asked for.It's impossible to provide sites for all subjects of course, so please, do send us your 'go to' sites of choice and I'll publish them here.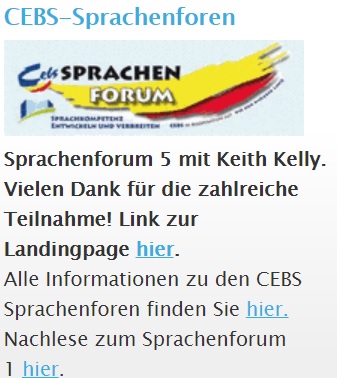 I had little idea what to expect. I did understand that we would show parts of my plenary talk on CLIL in Austria, past, present and future given at the KPH in Linz earlier this year.I also knew that we would have a live audience of groups of teachers (some 200 or so, going by the numbers we were able to count at the time) who would tune in to listen to our discussion.The teachers would also be asked to have their own discussions in their schools and feed questions to us live in the studio. It's a great idea and medium for ongoing professional development.You can watch the recording at this link or embedded in this page.
https://www.youtube.com/watch?v=U779IvBYb-E 
Also, if you're in Austria, consider joining the 377 teachers already in the CLIL Google Group so that you can link with similar subject teaching colleagues. Write to me and I'll add you to the group.  
Lastly, there were far too many questions for Andreas and I to deal with, so we promised to write up answers to the remaining questions and post them on the CEBS site, and most likely here too when we manage to do that. I'll get on with that now!
Thanks for the experience!