Spain - 10th anniversary conference of GETXOLINGUAE
GETXOLINGUAE: HAMAR URTEKO IBILBIDEA
DIEZ AÑOS DE GETXOLINGUAE
10th anniversary conference of GETXOLINGUAE
May 12th and 13th, 2010  
I had a terrific visit to Getxo in the Basque Country despite concerns that the volcano had its eye on me. As it was, the travel was very smooth and I spent some good time with a great crowd of people.
First of all, and I know it's not the most important thing, but it's so predictably good that I have to mention the food. I think the Basque have a patent on good food to the extent that even the fast food is good!  
I met with Maite, the president of the Getxo Berritzegunea organization, Loli my very kind coordinator, and colleagues for dinner and I think the waiter was a little disappointed that we didn't eat more from the sweets on offer.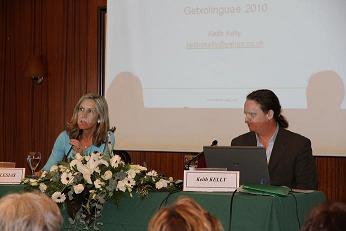 Loli Iglesias introduces me to the audience, thanks Loli!
The next day began with opening talks, then Daniel Cassany spoke about new literacy and literature challenges for schools.
I skipped two Basque talks, am ashamed to say, but I have researched the possibility of learning Basque through the Boga programme, it turns out you have to be living in the Basque country so I was pointed to another site and registered, even nibbled through the early lessons, will go back to that as soon as I can arrange a habit around it, learning Basque.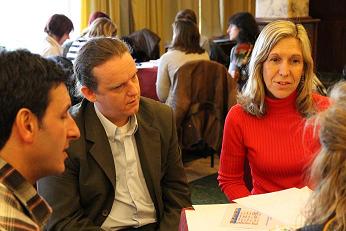 World Cafe discussion    
My talk followed lunch. Torture, but delicious torture. It's not easy to present practical stuff to a sitting audience of 300 with no room for movement. I tried my best to show practical activities for project work in the classroom. Some of my favourite activities to do with my own students and on projects I've worked on with them.
I then took part in the World Cafe and met some English teachers, one Belen, who reported that she was teaching using the Inebi project, good for her! And she was very happy with it as are her students.
We contributed to a decalogue for modern language learning skills, our topic was speaking. You can catch up on all of this, blog, reports, pics and all at the
Getxolinugua
website:
A lot of the activities and projects I do come from Science areas of the curriculum and so if you're interested in bringing content projects into your classroom, Science or other, take a look.
Science Across the World
is a great place to start.     
Presentation agenda
You can get your
students investigating their genetic heredity
Why not do a
project on cosmetics
, and make hair gel, shampoo in the classroom? 
You can explore the solar system with
DIY rocket building
Or you can investigate road safety,
speed test
your students and see how safe they are on the roads.
Language teachers are constantly being asked to bring the outside world into their classrooms. One of the best ways to do this is to engage learners in project work which gets them to investigate their world and the world around them and work on this in the language classroom.  
This workshop aims to do four things:
- create discussion about the value of project-based language learning;
- present a range of project topic areas for use in the language classroom;
- give participants hands on experience of aspects of project work from these topics;
- offer colleagues materials and ideas to take away and use in their teaching.  
Expected outcomes
Colleagues will be able to go home equipped with all they need and will also be given a handout with links to a number of project initiatives to get them started on the road to real-world project work for the language lesson.
I can't claim to have provided colleagues with hands on practice of the activities I presented. It was impossible to offer practical tasks in the forum I talked to. Having said that, there was great interest in the ideas and projects and I'm sure colleagues will follow them up and get in touch to collaborate further.
My PPT presentation on Projects for language teachers is linked below for download.