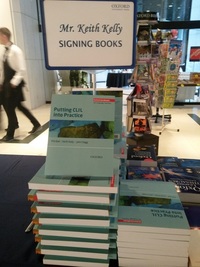 Slovenia-OUP Conference in Slovenia
Slovenia-OUP Conference in Slovenia
I gave a plenary talk to 400 primary teachers and 100 secondary teachers in Ljubliana, Slovenia on the theme of CLIL for Teaching English.
We had a broad agenda, but mainly I wanted to use the 3D CLIL principle to show what soft CLIL and hard CLIL have in common.
Concepts, Procedures and Language brin...
read more